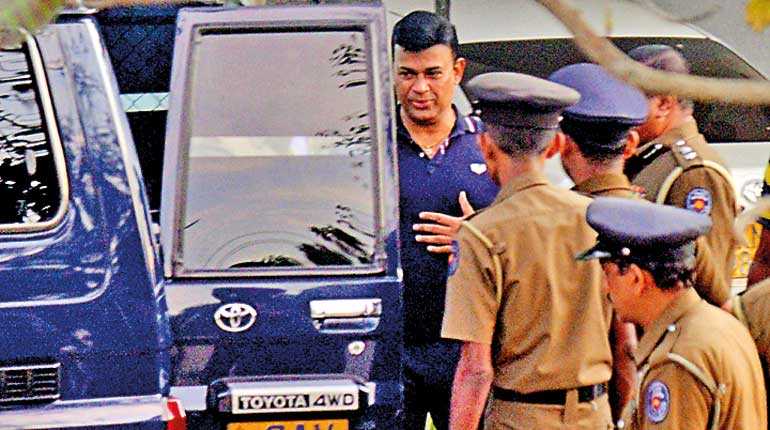 Controversial MP arrested from Madawela quarter by CCD officers last evening
To be produced before Gangodawila Magistrate today
AG directs he be charged under Article 111C (2) of the Constitution on grounds he interfered with functions of judges
Could face one year in prison and be stripped of civic rights if found guilty
UNP MP Ranjan Ramanayake, who was arrested yesterday over his leaked phone recordings faces, losing his civic rights for seven years as well as a year-long imprisonment if found guilty after the Attorney General (AG) directed that he be charged for offences under Article 111 C (2) of the Constitution.

Ramanayake, who is embroiled in controversy over leaked phone recordings, was arrested on the directive by the AG on grounds that he interfered with the exercise or performance of the judicial powers or functions of judges.

Ramanayake was taken into custody by officers of the Colombo Crimes Division (CCD) from his official residence at the Madawela MPs quarters. He will be produced before the Gangodawila Magistrate today.

An AG Department official said he will be charged for offences committed in terms of Article 111C (2) of the Constitution.

Under this Constitutional provision, "Every person who, without legal authority, interferes or attempts to interfere with the exercise or performance of the judicial powers or functions of any judge, presiding officer, public officer or such other person shall be guilty of an offence punishable by the High Court on conviction after trial and could face imprisonment for up to one year and a fine."

If convicted, he would also be disqualified for a period not exceeding seven years from the date of such conviction from being an elector and from voting at a referendum or at any election of the President of the Republic or at any election of a Member of Parliament or any local authority, or from holding any public office and from being employed as a public officer.

In the phone recordings that have been made public, Ramanayake is heard allegedly talking to several judges and inquiring about ongoing cases against political opponents.