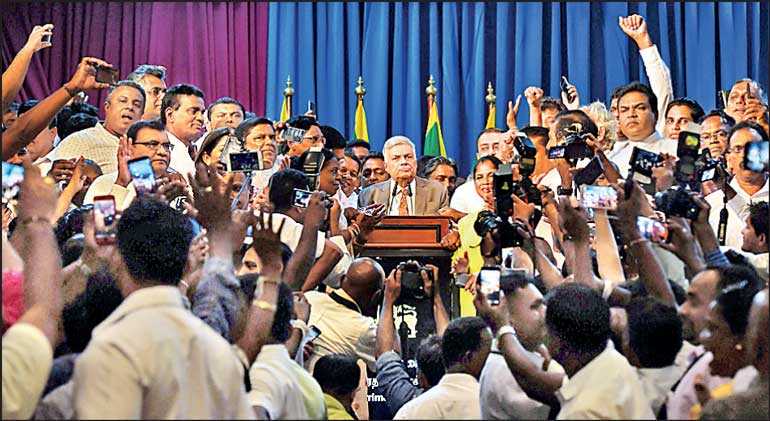 Prime Minister Ranil Wickremesinghe speaks to supporters at the prime minister's official residence yesterday after being reappointed by President Maithripala Sirisena - AFP
---
Says during the past three and half years, a lot of positives have happened but many not implemented
Expresses determination to rectify shortcomings
Appeals to all to forget differences and join hands for broad alliance to protect democracy
Prime Minister Ranil Wickremesinghe, making a special address to the nation yesterday, declared that there was a collective effort by all to fight for the sake of democracy and the triumph should inspire the nation to move forward towards prosperity and living in harmony in a unitary state.
"Our fight was for the sake of democracy, justice, protection of the Constitution, adherence to the rule of the law, and the civilised and moral conduct of society. I also said that we would win this fight. Even today I am saying the same thing. I will tell the same thing tomorrow too. I will abide by my word. I will do what I say. I say only what I can do," said Wickremesinghe, adding: "Most of the people of this country joined together to protect the Constitution, democracy and the rights of the people."

He recalled that in January and August 2015, a mandate was received from the people to bring about good governance to preserve democracy and the rule of the law to eliminate fraud and corruption, to empower Parliament after abolishing the executive presidency and to uphold the sovereignty of the people.

"During the past three and half years, we have done a lot for the country," he said, adding: "It is due to progressive steps, including the establishment of the independent commissions, that many institutions, including the Judiciary, could act independently."

"The whole country is enjoying the harvest of the seeds we sowed during the past three and half years. We are happy about that. However, there are things we could not implement in this period. Some work got delayed. We could not finalise some work. But we haven't lost our dedication. We are determined to rectify our shortcomings," Wickremesinghe said.

"We will take steps to expedite the litigation regarding fraud and corruption. We have created an environment in which different ethnic groups can live together in harmony and coexistence. We will dedicate ourselves to maintaining harmony among different ethnic groups," the Premier added.

Wickremesinghe said the intention was to form a broad alliance to protect democracy. It is only in a democratic environment in which the voice of the people is considered and the rights of the people are protected. We can bring about a dignified society where future generations can live without fear. In that context he appealed to all to forget all differences and join hands with this broad alliance for the sake of the country, democracy, the rights of the people and to bring about a free country for the unborn generation.