Says arrest/interrogation of MPs without informing Speaker breach of their parliamentary privileges
Says Police bound to keep House informed in such cases
Public Security Minister says no plans to arrest Harin
Rishad case before AG
---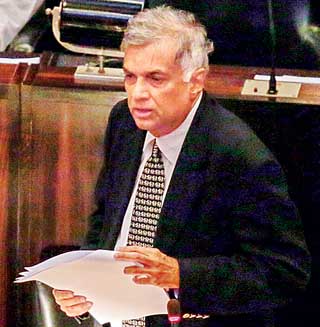 UNP MP Ranil Wickremesinghe
---
There are no plans to arrest SJB MP Harin Fernando, but he is duty bound to provide information he has regarding the Easter Sunday attacks to the CID, Minister of Public Security Sarath Weerasekera said yesterday.

Responding to a privilege issue raised in the House by UNP MP Ranil Wickremasinghe, the Minister said Fernando had claimed that he was aware of the mastermind behind the attacks.
"If he has such information, he should divulge it to the CID for the sake of the national security. If he is not willing to do so, we have no issue," he said.
Raising a privilege issue in the House, UNP MP Ranil Wickremesinghe said the arrest of MP Rishad Bathiudeen, and interrogation of MP Harin Fernando is a breach of privilege of the entire parliament and that Police are bound to inform the House the reasons for the arrest or interrogation of a MP but in this case they had not done so.

"It is a violation of the privilege of all members of the House under the provisions of the Constitution as well as the Parliament (Powers and Privileges) Act. The House has the right to know as to why an MP is arrested or questioned," the MP said.

Referring to the case involving SJB MP Harin Fernando and his questioning over the Easter Day terrorist attacks, Wickremesinghe said that Fernando had called him just after the explosion and informed that his sister had told him that his father had informed her that they should not go to church on 21 April 2019.

He said even if Fernando informed the Police of this, it is unlikely the Police would take have acted.

"Will the police who failed to act upon the warnings given by the Indian intelligence act upon the information of MP Fernando? It is also a matter which has no relevance as Mr. Fernando has been dealt with by the Presidential Commission of inquiry. One can conclude that there is an attempt to intimidate Mr. Fernando. The Police have not informed the Speaker as to why exactly Mr. Fernando was questioned," he said.

Referring to MP Bathiudeen, the UNP MP said that preventing a Member of Parliament from performing his duties is a breach of privilege.

Weerasekera said that MP Bathiudeen had been arrested as he was connected to several incidents and the matter has been referred to the Attorney General.