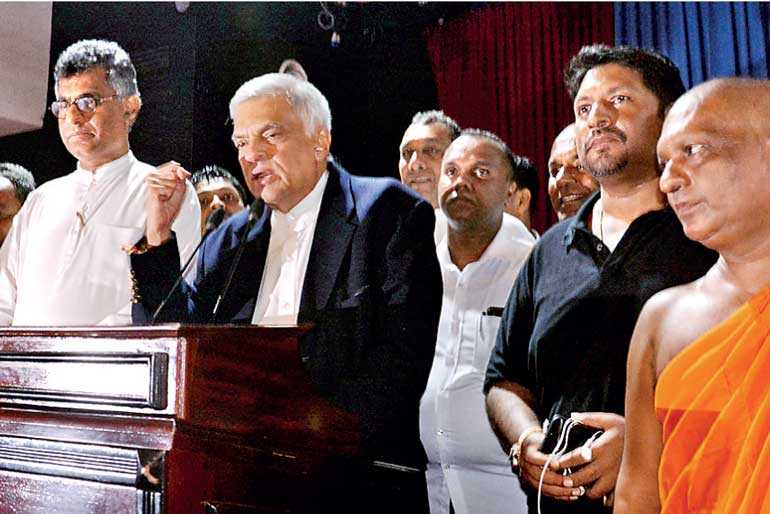 UNP Leader and Prime Minister Ranil Wickremesinghe speaks to the media following the Supreme Court decision - Pic by Pradeep Pathirana
Says resounding victory for people's franchise, will continue battle for democracy
Pledges to show majority in Parliament
Prime Minister Ranil Wickremesinghe yesterday hailed the Supreme Court decision to stay the gazette issued to dissolve Parliament as a victory for democracy, insisting that this was the first win in the battle to establish the sovereignty of the people.

"Today we have witnessed a resounding victory for the people's franchise and a victory for decent politics in this country. We appreciate the order given by the Supreme Court. The order ensures that the Constitution is not trampled upon and you cannot play around with the Constitution," he told journalists at Temple Trees shortly after the Supreme Court decision was announced.

Wickremesinghe extended special appreciation to Speaker Karu Jayasuriya, insisting that he upheld the dignity of Parliament, its powers and the sovereignty of the people. He also expressed gratitude to all political parties, civil society organisations, community leaders and the public who stood together to protect the rights of the people of Sri Lanka.

Emphasising that the powers of the President were limited, Wickremesinghe asserted that he must act according to the law.

"He is not above the law," the Prime Minister said. Wickremesinghe also said they were prepared to give reasons as to why this was an illegal and unconstitutional order when the court assembled again.

"We will be in Parliament and we will show the majority. We will show we are the legitimate Government of Sri Lanka. The majority will be shown and we will ensure that it will be enforced," he added.

He called on all public employees to follow the Constitution and act according to the law.

"Know what is legal and what is valid," he asserted.

Wickremesinghe in particular reminded the Police that the Speaker was in charge of Parliament and the security of the Members of the Parliament.

"They (the Police) must adhere to what the Speaker says," he added.

Acknowledging that they would be attending Parliament today as per the gazette issued by the President to reconvene Parliament today, Wickremesinghe said there would be a massive demonstration at Lipton Circus on 15 November to celebrate the victory of democracy.