Meeting rescheduled on Premadasa's request
Talks likely to take place tomorrow
Differences between UNP leader and Deputy as to who should be Party's presidential candidate
A scheduled meeting between UNP leader Prime Minister Ranil Wickremesinghe and its Deputy Leader Minister Sajith Premadasa which was to take place last evening to iron out differences as to who should be the Party's presidential candidate was postponed on the latter's request.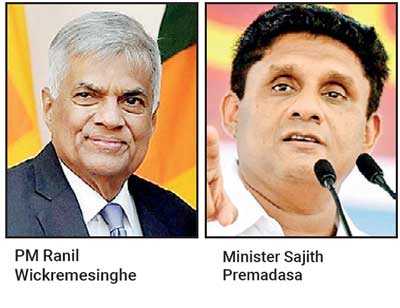 Sources in the Prime Minister's Office said that Premadasa sought a rescheduling of the meeting and it is now likely to take place tomorrow.

The one-to-one meeting between the two was scheduled after several senior UNP members, who met with the UNP leader last Friday, urged him to hold talks with Premadasa and resolve differences that have cropped up over who should be the UNP's candidate for the upcoming presidential poll. However others said there was no meeting scheduled for yesterday.

While Wickremesinghe expressed his intention to run as the UNP candidate at Friday's meeting, which he said he would put to the Party's Working Committee for the final decision, Premadasa has been carrying out a public campaign to win the candidacy.