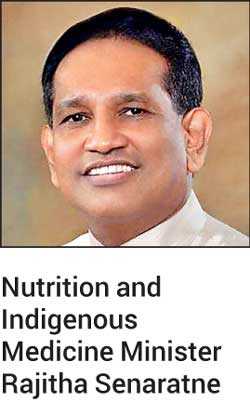 By Nuwan Senarathna

Health, Nutrition and Indigenous Medicine Minister Rajitha Senaratne yesterday said the tax on sugar removed by MP Mahinda Rajapaksa would be reintroduced.

"I am making decisions on behalf of the people of this country, not companies that produce soft drinks," Minister Senaratne said, addressing staff at the Ministry of Health after assuming duties.

He noted that as Minister of Health he would stand with the public and not with private firms and would continue his policies as they were prior to 26 October.

Dr. Senaratne said he had informed President Maithripala Sirisena of the decision taken by MP Mahinda Rajapaksa and discussed its effects.

"I have requested President Maithripala Sirisena to reverse MP Mahinda Rajapaksa's decision as it had received the commendation of the World Health Organization (WHO). The President said he was not aware of the WHO commendation," he added.

MP Mahinda Rajapaksa who was appointed as Prime Minister and Finance Minister by President Maithripala Sirisena had instructed officials to reduce tax on sugar content on beverages on 30 November by 40%.

MP Mahinda Rajapaksa in a statement said: "Sugar up to 6g in carbonated drinks and sugar up to 9g in fruit juices will be exempt from tax. The earlier tax of 50 cents on 1g of sugar has been reduced to 30 cents. These two measures together would reduce beverage prices by as much as 30%."

Following MP Rajapaksa's decision, the Government Medical Officers' Association had sent a letter to MP Mahinda Rajapaksa on 3 December criticising his decision to cut down the tax on sugar content in beverages, insisting he seek technical guidance regarding the decision.