By Uditha Jayasinghe

A cluster of seven professional organisations yesterday called on the Government to present the recently signed Singapore-Sri Lanka Free Trade Agreement (FTA) to Parliament and step up engagement with professionals on other trade deals to be signed in the future.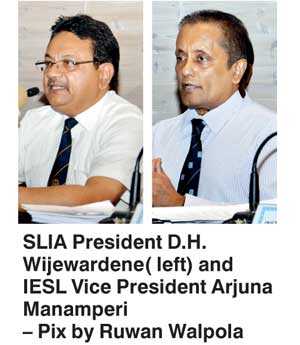 Representatives of the Institute of Engineers Sri Lanka (IESL), Sri Lanka Institute of Architects (SLIA), Institution of Incorporated Engineers Sri Lanka (IIESL), Institute of Quantity Surveyors Sri Lanka (IQSSL), Institute of Town Planners Sri Lanka (ITPSL), Institute of Landscape Architects and Institution of Surveys (ILAIS) speaking to reporters noted that despite repeated appeals to the Government, mainly the International Trade and Development Strategies Ministry, little attention had been paid to concerns raised by professionals.

The group faulted the Government for what it described as fast-tracking the Sri Lanka-Singapore FTA when concerns raised on many issues, including visa access for workers, accreditation of qualifications and identification of professional shortages in the Sri Lankan economy, had remained unaddressed. They called for a rules-based approach that allowed for stronger stakeholder engagement and insisted that local laws should be upgraded at the same pace as the FTA negotiations to protect local interests. They also questioned why the FTA, which was signed in January, was only released to the public in April.

"When we began talks with the Government in 2015, we presented a 42-page document outlining specific concerns and gaps in different sectors that needed to be filled to protect local professionals. However, we noticed that while these efforts were slow to progress the negotiations on the FTA developed rapidly and this mismatch is reflected in the final document. Many segments in the FTA on professionals and investment on the Sri Lanka side has remained open or 'unbound' creating space for regulations potentially damaging to the Sri Lankan economy to be implemented," said SLIA President D.H. Wijewardene.

Among the requests by the professionals had been an appeal to tighten visa regulations for workers and implement a system similar to other countries, where qualifications for professionals would be vetted by Sri Lankan organisations before they are allowed to obtain work visa. Wijewardene argued that since the Sri Lankan Government had agreed to include services in the Singapore FTA, it was likely that this precedent would allow movement of professionals under the Economic and Technology Cooperation Agreement (ETCA) currently under negotiation with India.

"We are not aligned with any political party or agenda. We are all here as patriotic Sri Lankans, attempting to ensure that these trade deals do not have an adverse impact on the country, the economy or future generations. Even though the FTA has already been signed, there are many aspects that will need to be legislated, and we hope that at least at that point the Government will engage with us and take our views on board," he added.

The representatives of the professional organisations were of one mind regarding the need to have a stronger voice on trade deals, and pointed out that the World Trade Organisation (WTO) itself advocates stakeholder engagement to ensure transparency and fair play in trade deals. They pointed out that an inspection of the Singapore FTA, which was published by the International Trade and Development Strategies Ministry last month, showed the difference between the strongly structured Singapore side and the less elaborate stipulations of Sri Lanka.

"It is clear that Singapore has done a better job to protect their interests. On our side, there are many oversights including on evaluating professional qualifications, quotas for professionals, how to deal with people over staying their visas, how to empower professional institutions. We are not trying to block investment, but these are things that should be discussed with stakeholders. We had our last meeting with on the Singapore FTA on 27 October, and at that meeting we asked officials to share the schedule of commitments, which they never did. We made a Right to Information application, to no avail and we sent numerous letters but never received answers. Why is it so hard to engage with this Government?" questioned IESL Vice President Arjuna Manamperi.