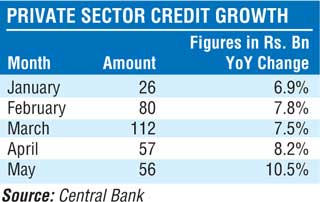 Private sector borrowing has risen by Rs. 331 billion in the first five months of this year with the cumulative figure crossing the Rs. 6.5 trillion mark.

Growth in May on a year-on-year basis was 10.5% whilst in the first five months, the increase amounts to 5.3% as per provisional data of the Central Bank.

In the first five months, March saw a whopping Rs. 112 billion in borrowing which some analysts viewed as an aberration whilst others noted it was on the strength of improved sentiment on the belief that the country had managed the COVID pandemic well. The corporates also had a highly successful three months ending 31 March 2021. However, analysts said sentiments changed with the onset of the third wave of the COVID-19 from late April after the Sinhala-Hindu New Year. The 'Avurudu Cluster' has been the worst, resulting in around 148,000 patients of the cumulative total of 243,787 cases as of Saturday.

As envisaged, credit demand by the private sector has waned down in holidays-dominated April and in May.

In its last monetary policy review in May, the Central Bank said reflecting the gradual transmission of the monetary policy easing measures adopted thus far, market interest rates have displayed a broad-based decline to their historic low levels.

The prevailing accommodative monetary policy stance and the high level of rupee liquidity maintained in the domestic market are aimed at supporting the economic recovery through the provision of affordable credit to productive sectors of the economy.

Accordingly, credit extended to the private sector increased notably during the first quarter of 2021, with increased credit disbursements to all key sectors of the economy. The introduction of priority sector lending targets for banks on lending to the micro, small and medium scale enterprises (MSME) sector will continue to provide further support for promoting credit to the needy sectors of the economy.

Net borrowing by the Government has risen by Rs. 476 billion or 10.4% in the first five months of 2021 whilst that by public corporations rose by Rs. 110 billion or 11%.