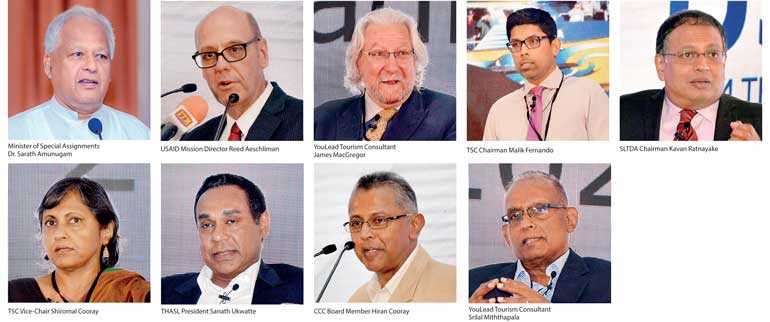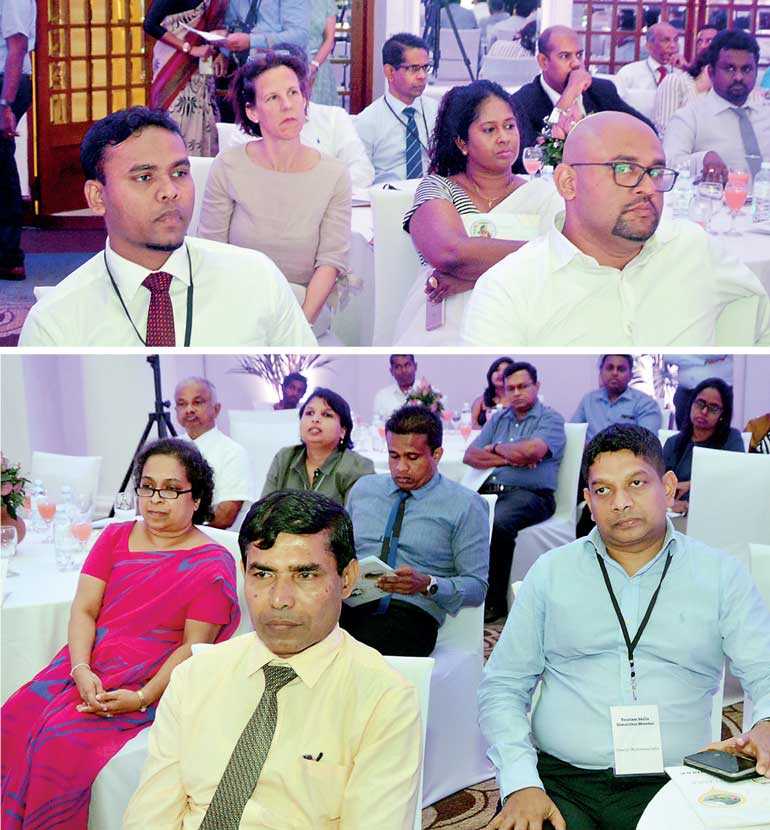 A pledge by private sector industry on the challenge of demonstrating youth on career opportunities tourism and hospitality industry
TSC's roadmap encourages more women to enter industry
Dr. Amunugama assures fullest support from Govt. to take the initiative forward
USAID commends private sector tourism stakeholders' commitment
SLTDA supportive of the initiative, commends industry for championing the spirit of collaboration to achieve set targets
TSC Vice Chair outlines importance of respecting women and creating dignity in their job roles
YouLead Consultant calls on industry to look inwards for necessary changes in the existing structures to attract more people
By Charumini de Silva

Leading the effort towards youth employment, the Private Sector Tourism Skills Committee (TSC) last week embarked on a concentrated effort with its 'Tourism Workforce Competitiveness Roadmap 2018-2023' focusing on critical, practical measures that the industry will drive in their own interest to avert a looming crisis.

With 25,000 to 30,000 additional employees required each year to service the projected increases in visitor arrivals, plus 20,720 registered rooms by 2020, the Roadmap is a call to action for the private sector to meaningfully increase the number of trained hospitality and tourism workers over the next five years.

'Tourism Workforce Competitiveness Roadmap 2018-2023' is driven by the TSC with the sup[port of the Technical and Vocational Education Commission (TVEC) of the Ministry of Science, Technology, Research, Skills Development and Vocational Training, Sri Lanka Tourism Development Authority (SLTDA), Sri Lanka Institute for Tourism and Hotel Management (SLITHM), the Ceylon Chamber of Commerce (CCC) and the Youth Employment and Business Startup Program (YouLead) – a project funded by United States Agency for International Development (USAID) and implemented by International Executive Service Corps (IESC).

Delivering the opening remarks representing the CCC, Board Member Hiran Cooray expressed confidence that this initiative would be a key instrument to meet workforce requirement over the next decade.

"Driven properly, the private sector could overcome the challenges and pave the way for competitive tourism industry," he added.

Committee like no other

Outlining through the initiative, TSC Chairman Malik Fernando insisted that it was not another strategy, but a pledge by the private sector industry stakeholders on the challenge of demonstrating to Sri Lanka's young women and men that a career in the fast-growing tourism and hospitality industry can be safe, simulating, well-compensated and full of opportunities for growth.

"We have too many strategies, but no one ever seems to act on them. This roadmap is a call to action and we hope the others will join us. However, we don't intend to wait. At one point we had a slogan for tourism 'land like no other' and this initiative is also 'committee like no other',he added.

Time for action

Noting that this roadmap draws extensively on the available research, particularly Sri Lanka Tourism Strategic Plan 2017-2020 that SLTDA produced, he asserted that all actions will strive to enhance the quality of service and experience provided by front-line.

In creating a world-class workforce he said the roadmap is built around four priority initiatives which includes; enhance the quality of hospitality and tourism training, reach out to youth, their parents and communities, timely research to make informed decisions and leadership by example.

"These key priorities are manifested in the guiding principles of the TSC and are based on values and ideals and respond to the vision of establishing a world-class workforce for a world-class destination," he stressed.

TSC has already prioritised a list of entry level courses they intend to update with the assistance of TVEC and SLITHM as well as new courses Sri Lanka needs to introduce to keep be on par with the global trends and training standards.

"Sri Lanka's tourism industry contributes as much as 12% to our country's economy, while it has also being ranked among the top 25 countries in the world on travel and tourism long-term growth prospects. Over the past four to five years a massive sum of $4 billion has been invested on the industry," Fernando added.

He said the industry is also planning to create a database of Sri Lankans working overseas in the tourism and hospitality sector and establish a recruitment portal to reach out to them. This portal would include job listings and information about the development of the tourism and hospitality industry in Sri Lanka with an emphasis on encouraging them to return.

Focus on women and youth participation

With Sri Lanka requires 100,000 more tourism employees in the next three years, it was pointed out that only 10,000 are trained on a yearly basis; where less than 10% of the workforce are women compared to the global average of 65%.

Fernando emphasised that one theme in TSC's roadmap is to encourage more women to enter the industry, cautioning that Sri Lanka will otherwise fail to create a sustainable, competitive tourism and hospitality workforce without increased participation from well-trained young people, particularly women. "Two segments, youth and women receive special attention because we believe that Sri Lanka will fail to create a fail to create a sustainable and a competitive workforce without increased participation from women and young people. However, encouraging substantially higher participation from these two demographics is a challenge," he added.

With youth have minimum exposure to the sector and women who currently represent less than 10% of the workforce, he said the sector faces substantial obstacles to become 'equitable' participants in the industry. Young women are reluctant to pursue a career in tourism and hospitality because of a myriad of factors including cultural perceptions, parental influence and limitations such as transport and affordable childcare.

Nevertheless, Fernando said the committee has dedicated a special initiative to reach out to these segments directly to build confidence and acknowledge them on the wealth of exciting career opportunities emerging from tourism sector.

"The success of any efforts to increase the number and the competitiveness of Sri Lanka's tourism and hospitality workforce depends on a combination of practical training programs, viable career pathways, public private partnerships and significant outreach to encourage new and different groups to embark on a career in the sector. The takeaway for the TSC, therefore is that our workforce is the most important asset we have because the quality visitor experience come from interacting with local people," Fernando said.

The roadmap was facilitated by experts James MacGregor and Srilal Miththapala.

Govt. and USAID pledges fullest cooperation

In a video message to attendees at the launch Science, Technology, Research, Skills Development and Vocational Training Minister Dr. Sarath Amunugama pledged to extend his fullest support through his Ministry to take this initiative forward, while commending the private sector for its proactive contribution in training youth of the country.

He described tourism industry as an attractive sector for the young people to provide decent job opportunities.

"This is an area which is brought of national importance as well as relative to the well-being of a large number of young people. One of the biggest problems in Sri Lanka is providing satisfactory employment for young people in the country. Studies show that there is ample opportunities for young people in tourism field," Dr. Amunugama emphasised.

USAID Sri Lanka Mission Director Reed Aeschliman said the initiative demonstrates the commitment of the private tourism industry to ensure Sri Lanka gets the most from its incredibly talented young men and women.

Narrating the long term partnership the USAID has shared with the Government of Sri Lanka and its people, he pointed out that the total investments to Sri Lanka amounts to over Rs. 300 billion in the fields of agriculture, healthcare, education, infrastructure development and governance.

He stated that the USAID is pleased to be a partner in this initiative, which has chosen to 'act' and not sit on the guidelines. "TCS will act in the best interests of the industry rather than individual actors. Having worked with some of the innovative, socially responsible, vibrant and growing private sector; we clearly identify them as Sri Lanka's most forward thinking companies," he added.

Noting that good public-private-partnerships (PPPs) are rare, Aeschliman commended all efforts by the line Ministries, all other Government institutions and non-government agencies for pledging to support this initiative.

Pix by Upul Abayasekara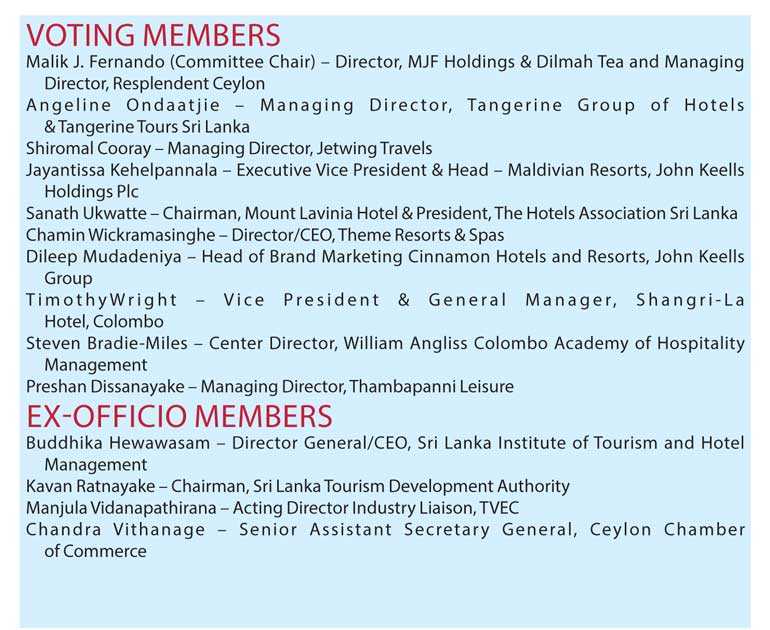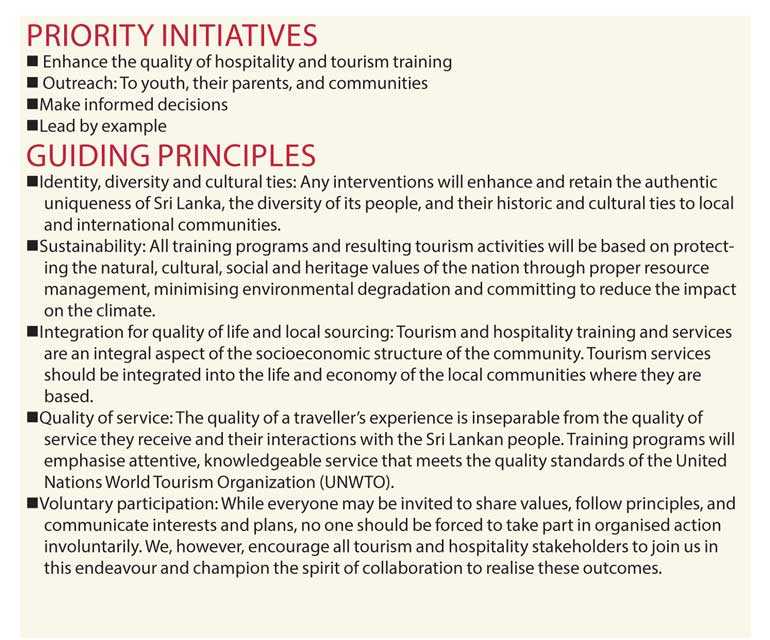 Following the formal inauguration a panel discussion a panel discussion on the topic of 'Private Sector Initiatives to create a world-class tourism workforce' was moderated by Savithri Rodrigo. The eminent speakers of the panel comprised SLTDA Chairman Kavan Ratnayake, TSC Vice-Chair Shiromal Cooray, YouLead Tourism Consultant Srilal Miththapala, The Hotels Association of Sri Lanka (THASL) President SanathUkwatte, TSC Chairman Malik Fernando and YouLead Tourism Consultant James MacGregor.
Q: There have been several strategy documents across the years. SLTDA just launched the Tourism Strategic Plan 2017-2020 with a vision of "being a memorable authentic and diverse tourism experience". Where does this workforce competitiveness road map sit in the context of that larger document and other strategies?
Ratnayake: The initiative that Malik and the TSC is working on is the chapter six of the big document, the Tourism Strategic Plan 2017-2020. We are extremely supportive of this initiative and for championing the spirit of collaboration to realise the outcomes of the industry at large. It is also helping us to build capacity needed for the sector.
Q: How will the TSC actively evaluate the success of these initiatives?
Fernando: The way it has been structured is much focused, specific and has been given time frames; so it is more like a self-evaluating mechanism as it progress on. With 200 trainers, 25 hotel role models, we are planning to go to 500 schools by 2019 to encourage and attract school children on the wealth of opportunities in the tourism industry. The rollout of the initiative depends on the training schools, thus this activity would seek to support comprehensive train-the-trainer programs on new curricula for at least 200 instructors in vocational training institutes. For a change in the mindset of the people would be brought to the fore by running a campaign on all media channels and particularly on social media as well to improve the awareness of what it is like to work in the hotel industry. In terms of specification, this is the most targeted plan we have seen in the industry.
Q: Does this mean that are you planning to put all public sector and private sector training curriculums together?
Fernando: No, but it is about modernising new ways of training by keeping them focused practical and relevant. We intend to update the curricula and teaching methods used to prepare trainees for the most in-demand jobs in seven existing and six new courses. To develop courses for intensive boot camp type training for youth, boot camps for train the trainer programs, draw industry support to provide senior staff to facilitate training and to rollout new curricula through selected training institutes. To ensure that at least 60% of courses are short-duration courses or modularised, multi-stage courses suitable for small operators and will be a more flexible training/career path for tourism and hospitality employees. Three months, six months and even three week courses would be planned so that new recruits could join the industry at an early stage. To train at least 100 school teachers to provide tourism and hospitality training in secondary schools. We saw that the availability of high quality training for tour guides is one area that is underserved and quite complex given the number of specialties within it. There is demand for more experimental tourism offerings, there are new fields emerging which require a new set of skills and training such as naturalists and rangers. This will open out a new catchment of young people with different educational backgrounds who otherwise would not consider tourism and hospitality as a career.
Q: What is the collaborative role THASL can play in enhancing the level of skills development in Sri Lanka in the tourism and hospitality industry?
Ukwatte: With alarming number of quality hotels opening and operating all over the country, there is a growing demand for staff. THASL has taken several initiatives in addressing the capacity building programs. One successful program was the 'Rising Stars' talent show that recognised staff involved in the industry. Our next major initiative we have embarked on is addressing the academic staff at school level. Recently we made a compelling story to over 200 principals and deputy principals from islandwide to create awareness on seamless career offerings to attract new talent to the hospitality industry. They were highly inspired and motivated on the fascinating opportunities that lie ahead in this Industry as many of them were not aware of the benefits tourism industry. They requested us to organise familiarisation trip to a hotel for the children to understand and get a first-hand experience on how they operate. We are happy to note that our members have agreed to it and we hope to continue this to encourage fresh talent to the industry.
Q: Will the concerns of the travel trade and tour guides be considered sufficiently in the execution of this plan? Particularly as shown in the video how the concerns of would facilities provided to women and community mindset challenges will be addressed? What are the key workforce challenges in this sector?
Cooray: To overcome the perception barriers the roadmap concentrates on reaching out to the parents and religious leaders in the areas directly on the importance of respecting women in the industry and creating dignity in the job roles. Jetwing has done a program like that and we are able to replicate it on a larger scale. Women are generally forgotten people at most forums. Hopefully over the next few months we would be able to change the mindset with direct engagement with parents, teachers, religious leaders and communities. In Sri Lanka, dignity and respect is very important for a female. It is possible for a female to be in the tourism industry, provided there is opportunity and sufficient facilities. This program is concentrating on building that space and opportunity for women in Sri Lanka.
Q: How do you expect to make tourism more attractive without simultaneous efforts to address pay structures and wage rates in the industry?
Miththapala: It is a point that needs more awareness to be created among the general public on the career development opportunities and benefits in the tourism industry. Hospitality industry is the only sector which distribute 10% of its revenue as service charge among the employees in addition to the monthly salary and annual bonus. They are also provided free meals, uniforms and lodging facilities. However, it is also important for the industry leaders to look inwards to see if changes needs to be done in the existing structures to attract more people. There is a process where we look inwards get inputs from the hotels on how the staff needed to be looked after and train.
Q: Is there true gender equality in the tourism and hospitality sector?
Miththapala: Right now, I don't think there is a gender equality. It is totally in the mindset of the people. We need to change ourselves and change mindset of the people outside this industry. There are new fields that are interest like we saw in the video where a girl is engaged in the industry as a ranger. I think it's time we think a fresh and be broadminded about how we see this industry.
Q: The ramping up of skills is and the delivery of training is problematic and quite Government sector skewed. What are the suggestion within the report and the key challenges we will face in implementing this?
MacGregor: I think we need to use the 'Tourism Workforce Competitiveness Roadmap 2018-2023' as a catalyst in training 25,000 employees each year. This initiative is important as we bring together all forces and stakeholders together without waiting for the Government to rollout things. There are a number of institutes that have come on board to support this initiative. However, reaching out to the rural areas for training is a challenge that we need to address.

Audience Q&A
Q: Malik outlined that the TSC is working towards enticing skilled talent back to Sri Lanka. Do you think for them to return, we have competitive remuneration packages?
Fernando: I think the wages we have right now are not very low compared to some years ago, with new international players setting the standards high. I think the overall remuneration packages offered are quite competitive. They also have the advantage of quality of as it allows them to be with their family and culture. Miththapala: The employees that return bring a wealth of skills. I have seen many people who went as cooks and returned as chefs having being trained under top chefs in the world. They are also encouraged to mentor and train young women and men entering the industry. I think it is a good cycle. The TSC is focused on front end staff, because that is where we are having problems right. Finding the front customer care staff is the main problem the industry face at present.
Q: Has the industry reached out to the north and east in terms of attracting new talent to the industry?
Cooray: Yes, indeed. We have attracted much talent from the north and east. There are many success stories from these areas that has reached great height in their career ladder in tourism and hospitality industry.
Q: Are there any learnings we can adapt from the garment industry?
Ratnayake: Not only apparel industry, but there is a lot we can learn from the ICT/BPM sector. The private sector has invested heavily in the industry. Over the next couple of years there will be 5,000 additional rooms to be taken care of. Tourism is creating employment opportunities across many segments in the economy, but training talent to meet this demand is challenging and that's why initiatives of this nature is very helpful. In the event of attracting trained people we were looking at the attracting employees working in the Middle Eastern countries and people from the defence forces. In the defence there is a well-trained talent pool. As the last resort, we might even look at people from outside where they will come for a short period; train a local for the same position and leave.

Ukwatte: As correctly pointed out by SLTDA Chairman that the private sector has invested heavily on the industry, I think it is high time that the Government intervene to create a level playing field for the formal sector players. The arrivals are going up and most of the tourists are going into the informal sector accommodation gaining the majority from it. We have invested heavily and pay are due taxes, but we are actually suffering. I think it's time that authorities intervene to restrict market coming to the industry or help us manage these in a more economical way.
Q: Do we have enough trainers to train?
MacGregor: There are few trainers, but as this is a national initiative carrying out in a large scale manner, we will bring down some experts on short-term basis.
Q: What is the biggest impediment for young people to join the industry? Should younger persons be allowed to join the industry by lowering the permissible age of employment?
Kanchana (Human Resources Advisory Subcommittee in audience): It is important for the schools to have a career guidance system established, so that the children are made aware of the industry opportunities from early ages. At present, it happens on a very haphazard manner. We need a methodical and a streamlined process in attracting new talent.