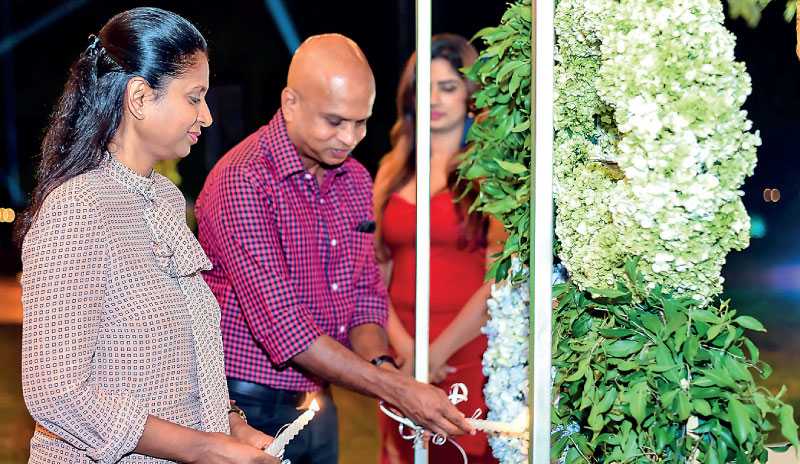 Lighting of the oil lamp at the launch of Clover by Prime Signature Villas, Thalawathugoda by Prime Group Chairman Brahmanage Premalal and Co-Chairperson Sandamini Perera  
---
60% of the luxury villas already sold out
---
Prime Group, Sri Lanka's pioneering real estate company, has launched the latest addition to its chain of signature villas – Clover in Thalawathugoda. The deluxe property was inaugurated at Corea Gardens on 19 March – opening reservations to all – and has instantaneously witnessed tremendous success with 60% of the property already being sold out.

Several existing customers as well as potential customers visited the newly launched luxury property to experience the signature of excellence at Clover. The dynamic Prime Team assisted and guided every single visitor with financial, legal, technical and general queries and requirements at the event.

Speaking at the occasion, Prime Group Co-Chairperson Sandamini Perera stated: "Prime Group always looks for the best locations. Clover is not just another housing project, but a venture with modern architectural language. 

"The surreal designs, layouts, colours and specifications of the interior and exterior have all been designed by our experienced, talented and highly-qualified group of professionals. We're extremely happy – not that we've sold over 50% of the project at the launch alone – but of the fact that this place will add new meaning to your life and give you the comfort that you deserve."

Clover by Prime Signature Villas comprises 54 signature villas – each ranging between 3,238 sq.ft. and 4,385 sq.ft. – that are spaciously designed in 16 different types, truly representing the epitome of ingenuity. 

Cocooned in a tranquil 4.5-acre expansive land in Thalawathugoda, Clover villas offers its residents exclusive living enhanced with premium grade amenities such as timber flooring, air-conditioned bedrooms, bathrooms with European-standard fittings, fully-fitted pantries, hot water connections via solar panels, spacious rooftop terraces, and backyards that serve as an oasis for relaxation.

The common facilities include a safe gated community with 24-hour security, an exquisite open lobby that serves as a cosy retreat lounge, a plunge pool with a timber deck, a fully equipped air-conditioned gymnasium, and a serene yoga deck set amidst manicured lawns and lush waterways – all of which make living at Clover aesthetic and indulgent.

Being situated in the Thalawathugoda suburb of Colombo – which is one of the most sought-after neighbourhoods in the region – Clover offers a journey of tranquillity where modernity thrives and harmony lives on. With urban conveniences in close proximity, the Clover community in Corea Gardens is one that harmonises the vibrancy of city life with the serenity of greenery, thus ensuring its promise of graceful living.

For more information on Clover's dream homes and signature villas in Thalawathugoda, please visit primelands.lk/lands/clover-thalawathugoda or call +94 70 300 4411.