---
By Sa'adi Thawfeeq
---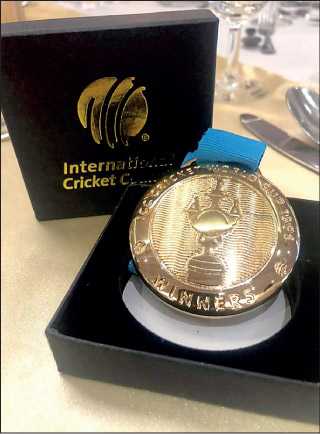 The ICC-endorsed gold medal to commemorate 25 years of winning the 1996 World Cup that was presented to each of the players and officials of the winning team
---
Prime Minister Mahinda Rajapaksa provided a solution to uplift the ailing National cricket team by asking them to take a leaf out of the 1996 World Cup winning cricketers.

Speaking at a reception hosted by him at Temple Trees yesterday to commemorate the 25th anniversary of Sri Lanka's historic 1996 World Cup victory, the Prime Minister said: "While we commemorate the 25th year of winning the World Cup, our former legends are currently playing in India and they are winning constantly.

"The secret behind these wins is neither facilities nor money, but the disciplined training received in the past and the sense of togetherness, which is what has made them legends of today. That's how we secured the World Cup. Today to rebuild our cricket, the past is a good example. If we can bring history back to the present, we can win another World Cup."

The Prime Minister spoke of two key incidents that took place during the 1996 Cricket World Cup that highlighted the humanitarian aspect of the team.

"During the World Cup semi-final against India at Calcutta, the Indian spectators got restless that India would lose the contest and started pelting stones and bottles onto the field. The entire world saw what was happening," said the Prime Minister.

"At this point, Aravinda (De Silva) was fielding on the boundary line and as a reserve player Upul Chandana volunteered to field in his place to prevent Vice-Captain Aravinda from getting injured and missing the all-important final. Chandana sacrificed his own life for the country. This is the story of humanity," he said.

"Secondly, I remember when Arjuna (Ranatunga) brought the World Cup to Sri Lanka under the leadership of former President Chandrika Bandaranaike Kumaratunga, and despite his father being a Minister at the time of the victory, he had first visited the residence of the late Gamini Dissanayake with the World Cup to pay his gratitude for the service he (Gamini Dissanayake) rendered to cricket."


Arjuna Ranatunga lambasts SLC

Sri Lanka's World Cup winning Captain Arjuna Ranatunga speaking at the occasion said that Sri Lanka was able to win the World Cup because the players were allowed the freedom to play their cricket.

"During that time, despite the administrative challenges, there was no political influence, we were given the freedom to play our cricket. The administration didn't put any burden on us," said Ranatunga.

"It's been 25 years since this happened and everyone remembers this special event, even from the media and at functions the love and respect is still there for the sport. I must state something about my team. I got a team of 14 players who played for their country, not for themselves, not for money, but who sacrificed for the sport."

"I was lucky to be captain of a team that had four senior players along with young players to go ahead with this journey, although it was not a pleasant one. We had to face a lot of challenges and we faced all of them. The senior players were behind us and we never let the problems affect the younger players. We were one family. As a war-affected nation, we brought fame to the country."

"Going back on history, I like to recall players who played before us; M. Sathasivam, Michael Tissera, C.I. and C.H. Gunasekara, (Ben) Navaratne and after that Anura Tennekoon, Ranjith Fernando, (T.B.) Kehelgamuwa, Anuruddha Polonowita, and when we got Test status Bandula Warnapura, Duleep Mendis, Roy (Dias), Sidath Wettimuny, Ranjan (Madugalle), they handed to Aravinda and me the baton to carry on. Some of them are not amongst us today, I respectfully honour all of them."

Turning his attention to the present plight cricket in this country is placed Ranatunga said: "We need to think and speak about where our cricket stands today. Like we have established records, the current administration has also set up a record. The ICC has set up an Anti-Corruption office in Sri Lanka. In those days, it was Pakistan who was famous for corruption, but they never set up an Anti-Corruption office there."

"We also have to bring to light how the administration is treating the senior players. We also know how they have treated some of our former coaches. Even though it is a national event, I will be failing in my duty if I don't bring this up. I am not saying because of any personal grudges.

"There are certain tasks that can be done and certain tasks that cannot be done. Certain tasks which cannot be done, you should step back and hand over to people who can carry it out. That is my view. I don't know about the others. I have a sense of shame. Where is cricket headed today? I saw during the last few days how they faced the COPE committee, how the administration treated a member of the 1996 World Cup team," said Ranatunga.

The former Captain and MP made a request to the Prime Minister to appoint an appropriate commission to inquire into the running of cricket in the country.

"I humbly request you to appoint a commission to inquire into how the cricket standard has fallen, to stop the kind of ill treatment, how funds from Sri Lanka Cricket have been transferred overseas, good people are going abroad, and coaches are leaving. Why are we giving handsome salaries and bringing trash from abroad (overseas coaches) and enter these in their CVs," said Ranatunga.

"We have enough knowledgeable coaches. There are players who played after us. In the world, there are no better batting coaches than the ones we have, it can be Aravinda, Mahela, Marvan, we have good personnel to handle administration, we have good bowling coaches, but we are bringing trash from abroad and letting them remit foreign currency, how they have treated our players and are treating players.

"I wish the Sports Minister was also present today. I request the Sports Ministry Secretary who is present, together with the Sports Minister if you want to take this game forward, please investigate it. We are not nailed to the ground yet but have only fallen, but if you continue in this trend our cricket will only fall apart and not improve. I say this with great responsibility," he concluded.

The occasion was attended by a distinguished gathering of past cricketers and administrators amongst others. The World Cup winning team players and officials were presented with an ICC-endorsed gold medal by the Prime Minister; a medal made especially for the commemoration of 25 years of winning the World Cup. Some of the players and officials were not present to receive their medal as they were overseas.