Groundbreaking initiative by Interbrand in partnership with Daily FT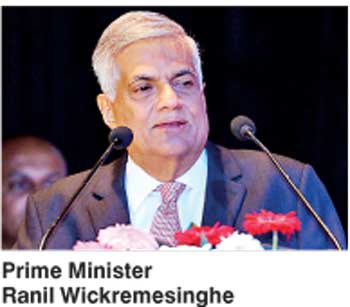 Prime Minister Ranil Wickremesinghe will be the Chief Guest at the inaugural Best Sri Lankan Brands Awards Night on 11 December from 7.00 p.m. at the Hilton Colombo.

The groundbreaking annual Best Sri Lankan Brands is an initiative by Interbrand, the world's largest and most influential brand consultancy, in partnership with the Daily FT.

The Best Sri Lankan Brands is an extension of Intebrand's world-renowned Best Brands list and will significantly boost the country's efforts to reposition itself for global and regional businesses.

The ranking, which identifies the most valuable brands in Sri Lanka, is modelled on Interbrand's prestigious Best Global Brands annual report, the definitive guide to the world's 100 most valuable brands.

Established in 1974 and now an opinion leader in the field of value-based brand management, Interbrand was the first brand consultancy to recognise the significance of a brand as a business asset and introduce the brand valuation concept and methodology.

Interbrand's Best Global Brands methodology valuates each brand's financial performance, role and strength through a five-step Economic Value Added methodology, which is also the first of its kind to be ISO-certified.

Joining the Prime Minister will be senior leaders from the Interbrand leadership team including Interbrand India Managing Director Ashish Mishra, Interbrand London Global Director, Brand Valuation Mike Rocha and Interbrand Germany Strategy Director, Nation Branding Guido Van Garderen.

Rocha leads Interbrand's brand valuation practice globally, providing overall strategy, thought leadership and consistency across the global network. Rocha has led valuation and strategy assignments globally, advising on a wide range of branding issues (positioning, architecture, portfolio analysis, brand extension, budget allocation, dashboards and return on investment analysis) and also for commercial purposes such as financial reporting, tax, litigation, licensing and M&A. His brands include Shell, Unilever, Kimberly-Clark, Virgin, SAB Miller, Orange, British Gas and Standard Chartered.

Rocha is based at Interbrand London. He is a regular speaker and has published numerous articles around the world.

Van Garderen leads Interbrand's Nation and City Branding practice, which includes Holland, New Zealand, Australia, South Korea, Spain, Chile, Guatemala, South Africa, Kenya, London, Edinburgh and the Sochi Olympics, among others. Formerly Strategy Director at Interbrand Africa, Van Garderen is currently Strategy Director at Interbrand Germany and the Global Destination Branding Practice Lead. A Harvard-educated thought leader, his 14 years of experience include work with brands such as Disneyland, Brand South Africa and Brand Kenya. He is a regular speaker and has published numerous articles all over the world.

Mishra leads the influential consultancy based in Mumbai, providing overall strategy and thought leadership. Mishra has led or played a key role in creating and renewing many of India's leading brands, including PepsiCoGNG, Godrej, XLRI, Etisalat and Baroda Next. Under his leadership during the past four years, Interbrand India has been chosen as a partner by 10 of the Top 40 Best Indian Brands, including Reliance, Britannia, Mahindra, Bajaj, Ashok Leyland, Tata, HCL, L&T and Union Bank. He is a regular speaker at forums in India and the subcontinent.

Nugawela is the Sri Lanka Partner for Interbrand. He has branded and repositioned many of Sri Lanka's leading brands including Aitken Spence, Carson Cumberbatch, Elephant House, Keells Foods, Lion Lager, Heritance Hotels, Ceylinco Life and most recently HNB in partnership with Interbrand.

Nugawela brings over two decades' experience in brand strategy and positioning and brand architecture, and has developed several proprietary tools and processes in organisational culture and leadership change to enable brand teams to change and adapt. He is a regular speaker at forums in Sri Lanka and the Indian subcontinent.

The event's Gold partner is CHEC Port City Colombo and other partners are the Export Development Board, Colombo Stock Exchange, Sri Lanka Ports Authority, SriLankan Airlines, Hilton Colombo, Business Class, OfficeMax, Citrus Events and Imran Saibo.