President Maithripala Sirisena on 13 October reiterated that the present economic crisis was not only limited to Sri Lanka but many countries in the world were facing this challenge.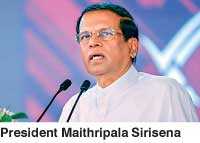 "Certain individuals issue statements saying that they can do what the Government cannot," the President said, requesting them to work for the country in a responsible manner.

Participating in a ceremony to open the new Mahara administrative building on 13 October, President Sirisena added that while smaller countries like Sri Lanka were vulnerable to the results of conflicts between powerful nations, presently steps were being taken to overcome those challenges through a proper economic management.


The President said that when politicians and public servants fulfilled their respective duties free of fraud, corruption and malpractices, achieving the economic goals of the country would not be difficult.

"We have to reinstate the exemplary characteristics of our proud history in our society, which gave prominence to indigenous products while becoming a self-sufficient nation, eliminating the habit of importing everything from foreign countries including kites," he said.

The new administrative building, which was constructed at a cost of Rs. 445 million, aims to uplift the living standards of the residents and trade community of the Mahara area.

President Sirisena also opened the newly-built three-storied building of the Mahara District Secretariat, which was constructed at a cost of Rs. 50 million, according to the government policy of streamlining and improving the efficiency of the public service.


The President opened the newly constructed swimming pool at Kirillawala Central College. This project was implemented by the Urban Development Authority under the Ministry of Megapolis and Western Development. The invested amount is Rs. 17 million.

The President opened the new technological laboratory built at S K K Suriyarachchi Secondary School in Kadawatha. It has been built with funds from the Ministry of Education under 'the closest school - best school' program.


The prize giving of Mahara Mahamaya Balika Vidyalaya took place under the patronage of the President. The President handed over awards and certificates to students who showed exceptional skills and talents.

Minister Patali Champika Ranawaka, Deputy Minister Lasantha Alagiyawanna, MP Harshana Rajakaruna, Western Province Chief Minister Isura Devapriya, Piyasiri Wijenayake, Ranjith Somawansa, Prishantha Jayakody and many others were present at this occasion.