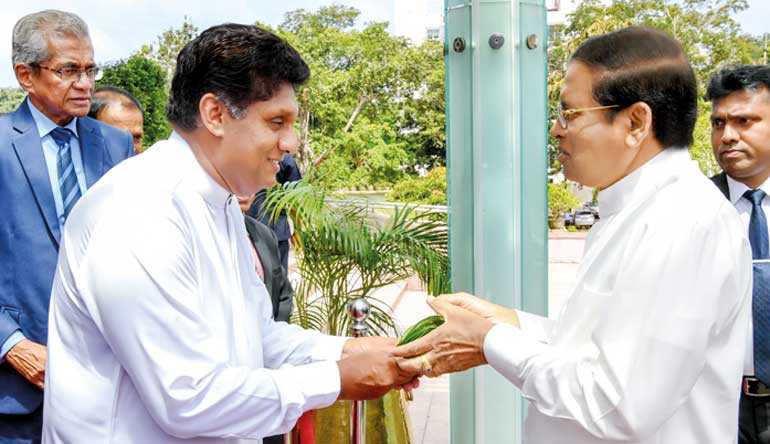 Minister of Housing, Construction and Cultural Affairs Sajith Premadasa receives President Maithripala Sirisena yesterday at the ceremony to mark the 40th anniversary celebrations of the National Housing Development Authority
---
President Maithripala Sirisena yesterday claimed that the 18th and 19th Amendments to the Constitution should be abolished in order to establish good governance in the country, to ensure freedom and democracy in the future.
"Even though the monarchical and dictatorial nature of the 18th Amendment to the Constitution resulted in bringing the 19th Amendment to the Constitution by the successive government, the latter made the country impossible to move forward under a single political leadership, thus creating a political uncertainty where the objectives of the good governance proved futile," the President said.
He made these comments in his speech at the 40th anniversary celebrations of the National Housing Development Authority yesterday at the Bandaranaike Memorial International Conference Hall (BMICH).

The President expressing his views further told that the country today needs a people-friendly government sensitive to their expectations for which honest and patriotic leaders are a prerequisite.

In addition, public servants are the most credible force to move the country forward in the road to development, and if they discharge their duties and responsibilities with no corruption and bribes the people's expectations can be met, the President further stated.

Premier Ranil Wickramasinghe, Minister of Housing, Construction and Cultural Affairs Sajith Premadasa, former Minister Ferial Ashraff, former chairpersons of the National Housing Development Authority, the chief prelate in Japan Ven. Banagala Upatissa were also among the large gathering.