Cementing coalition cracks!
P'ment composition means coalition Govt., Pledges to serve till term end

Contradictory statements by party members due to teething problems

Compares his challenges to those faced by S.W.R.D, recalls splinter groups have always returned

Says SLFP chairmanship given voluntarily

Stronger anti-corruption policy to be unveiled at SLFP 66th anniversary celebrations

Believes corruption has infected all of society, more time needed to provide solutions

Calls on judicial institutions to be aware of public

impatience, mulls upgrading anti-corruption laws

Ambassador Jayasuriya returned from Brazil because term ended not due to lawsuit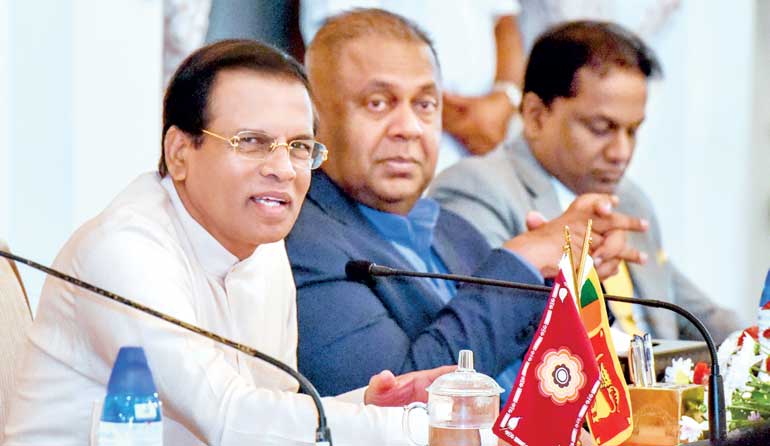 President Maithripala Sirisena, seated alongside Finance Minister Mangala Samaraweera, smiles at a meeting with the heads of media institutions yesterday. Deputy Speaker MP Thilanga Sumathipala is also present
By Uditha Jayasinghe
Quashing speculation over the fate of the Coalition Government, President Maithripala Sirisena yesterday backed it to continue till 2020, pointing out that the parliamentary composition demanded it and insisted he would continue his term to the end.

During a meeting with the media to discuss the upcoming 66th anniversary celebrations of the Sri Lanka Freedom Party (SLFP) at the President's House, Sirisena was upbeat about the SLFP continuing its agreement with the United National Party (UNP) but refrained from giving any specific information on what would happen after 31 December when the existing partnership would be up for renewal.

However, he pointed out that as the 225 parliament seats are divided between the SLFP and UNP with neither being given a clear majority any composition would include coalition parties but as president he was duty-bound to serve until his term was completed.

"Some say their own party may form a Government soon, but under the current composition of the Parliament no single party can form a Government on its own. Even if there is another coalition, I will fulfill my responsibilities towards the people as president of the country until the end of my term," he said.He also acknowledged that both sides were still navigating the coalition arrangement with members on both sides sometimes sidestepping collective responsibility.
Referring to former Justice Minister Wijeyadasa Rajapakshe stepping down, Sirisena noted he had merely signed off on a decision made by the UNP Executive Committee but he had also advised his party members to refrain from controversial statements on Cabinet decisions.

The President put these comments down to teething problems within the Coalition Government and stressed they were not aimed at undermining it.

President Sirisena also acknowledged divisions within the two main political parties but contended that both parties had faced similar challenges in the past. He recalled factions both within the SLFP and UNP that had threatened to break away and form new wings but pointed out that they eventually returned to the fold of the main party and contested elections under the same banner.

"The SLFP is a party with a clear vision and clear goals. Therefore it will continue to be successful because this is what people want. Political parties should not serve the narrow agendas of party members but should focus on the development of the country," he added.

Sirisena, discussing a range of issues during the briefing, also stated that the party's disciplinary committee would act on any SLFP members who have broken its laws and some investigations had already begun but refrained from giving the names of the relevant politicians.

He was also questioned on former President Mahinda Rajapaksa publicly saying he remains the SLFP Chairman. In response Sirisena said the chairmanship had been offered to him by the SLFP and it was "voluntarily handed over" during a meeting that included Rajapaksa's presence at former Speaker Chamal Rajapaksa's residence shortly after he won the presidential election in January 2015. Rajapaksa subsequently participated in the SLFP anniversary celebrations later that same year, which was presided over by President Sirisena as chairman.

The President's main statement centred on the service rendered by the SLFP over many decades to Sri Lanka and said he sees many similarities between his current experiences in ruling and what was tackled by former Prime Minister and SLFP founder S.W.R.D Bandaranaike. The Government's fight against corruption was dwelt on extensively by the President, who told reporters that corruption was so deeply embedded in Sri Lanka that it was extremely difficult to address its many complicated ramifications.

"Although it is not an easy task as not only the body-politic, but also the entire social fabric is diseased with corrupt practices, I am absolutely determined to fulfill this uphill task," he told media heads and newspaper editors. "If I am corrupt then my secretary knows it, if a minister is dishonest his secretary will know it. We want to introduce a broad policy framework dedicated to combating corruption at the 66th anniversary celebrations. To meaningfully fight corruption we need to build a broad political consensus. Today young, educated people are disgusted by politics and politicians. We need to change this situation and win back their confidence."

"The people in the country yearn for unstained politicians and my determination is to ensure that the SLFP is a party that provides such politicians to make the people's dream a reality."

When a journalist referred to the recent bribery case in which a school principal was prosecuted after nine years, and asked if the Government had any plans to speed up the judicial process, the President replied that the he has advised the relevant ministers and officials to study the judicial systems in different countries to find out the methods of meting out speedy justice. However, he clarified the Government was committed to the independence of the Judiciary and would not allow any interference in the judicial process.

"I trust that the Judiciary and related institutions are aware of the deep public need and will pay attention to it," he went on to say.

He pointed out that it took a long period of time for legal action to be taken against Marcos of the Philippines and Lula de Silva of Brazil. However, quick action was taken against former South Korean President Park Geun-hye and she was sentenced to a prison term, he said, also referring to the Pakistani Supreme Court verdict, which led to Prime Minister Nawaz Sharif resigning.

"All these examples show the speed in some countries and delays in other countries. We have to study and find out a suitable method. I have had discussions with our officials on how we might adapt some of these measures, he said.

Questioned on reconciliation, foreign judges and the UNHRC resolution, President Sirisena said that the Government would continue to implement the agreed terms but would protect Sri Lanka's sovereignty at every turn.

"It is a slow process. We cannot have speedy solutions. However, we have categorically stated that the Government will implement those clauses while safeguarding the sovereignty and independence and only the steps that are compatible to the country will be taken. We have seen that other countries around the world have also taken many years to implement policies. These are issues that are best solved with judicious and extensive consultations with all stakeholders," he said.

As part of the same spate of questions, Sirisena also denied former Army Commander and Sri Lanka's Ambassador to Brazil Jagath Jayasuriya had returned to the country because of a possible lawsuit accusing him of war crimes. "The ambassador's term was over and therefore he was returning home. However, I will ask the relevant officials to look into this matter closely."