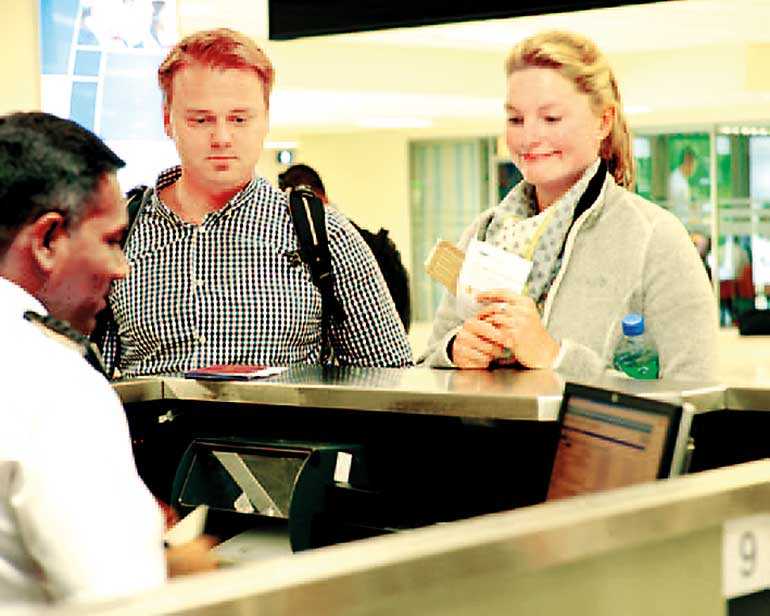 The recent unannounced visit by President Gotabaya Rajapaksa to the Bandaranaike International Airport (BIA) and directing improvements to the service level has triggered the industry to come forward with new suggestions.

Industry experts said that at present the BIA has 57 check-in counters and to ease congestion and given space constraints at the terminal, the Government could look at converting a section of the Lotus Tower retail area into an express international flight check-in zone, with luggage drop-in services.

Another suggestion is to increase the number of self-service check-in kiosks from SriLankan Airlines at the BIA from eight to 20 catering all airlines to issue boarding passes for passengers without luggage. To improve smoother border control, experts suggest the introduction of automated immigration gates (e-gates) enhanced with facial and fingerprint biometrics for fast check-in as adopted by the Singapore's Changi Airport.

In terms of beautification of the BIA they noted that BIA at present has a mesh fence surrounding its premises and is the only airport in the world at present to do so.

The Airport authorities can landscape and build and electric fence enabled with sensor technology for enhanced security, the pointed out.

For the buses that travel between the boarding gate and the airplane at boarding gates without aerobridges, experts said institutions such as banks can be encouraged to provide Cobus low flow buses without a cost in return for branding those buses by the institution for a long-term period of 15 years.

Experts also said the authorities need to establish a well-regulated and a well-organised taxi service at BIA by issuing duty-free vehicle permits for taxi owners with special vehicle registration plates and allocate the operation and technology to an established taxi service company.

Another suggestion is to convert the VVIP lounge and its boarding gates at BIA to handle budget airline operations.

Visiting unannounced on Friday the President instructed the airport authorities to ensure that no inconvenience or delays were caused during their arrival and departure.

He emphasised that the security measures at the airport should be carried in a manner that would not be inconvenient to the public.

During the visit, the President observed the international airport's functioning, paying close attention to the efficiency of its passenger clearance processes.

The President instructed the Director General of Immigration and Emigration to take adequate measures to minimise the delays caused while deploying adequate officers in this regard.

The President engaged in cordial discussions with the passengers.

The President also pointed out that by constructing two terminals for arrivals and departures, the Airport could increase its efficiency. He also instructed to speed up the completion of the construction works of the new terminal.

President Rajapaksa instructed Airport and Aviation Services Chairman Major General (Rtd) G.A. Chandrasiri to set up a separate terminal for taxis. He also commended the Chairman and staff of the Airport for their service.