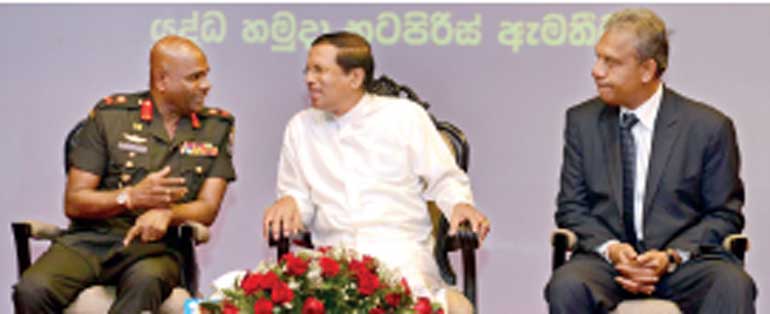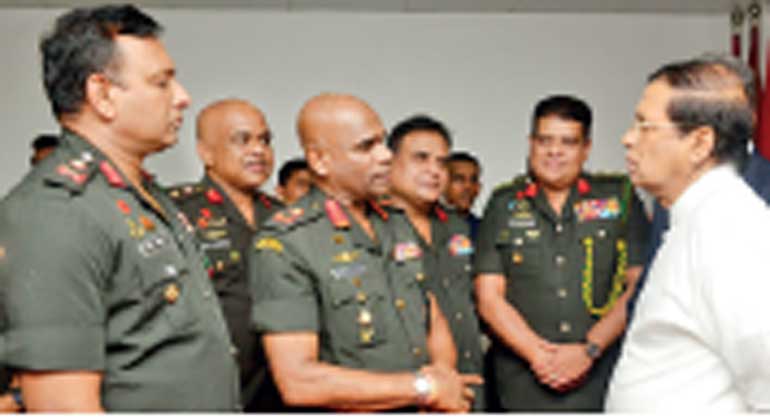 President Maithripala Sirisena reiterating his pledge to protect war heroes from foreign tribunals said if there are any errant Army personnel, they will be produced before Sri Lankan courts and tried according to the existing law of the country.

The President has emphasised that no international human rights organisations will be allowed to pressure the Sri Lanka Army on whatever grounds and the UN has been informed of Sri Lanka's capability as a sovereign State to find solutions to its own problems without any foreign interference.

Sirisena expressed these views on Thursday addressing a representative gathering of more than 350 high ranking army officers at the Colombo Army Hospital auditorium.

Defense Secretary Kapila Waidyaratne and Commander of the Army Lieutenant General Mahesh Senanayake welcomed the President to the occasion.

President...

Addressing the gathering, the President called upon the Army officers to continue with their dedicated roles for the sake of the country.

"You have all dedicatedly come forward to safeguard the country at all times, and also in times of national disasters risking your own lives, for which we are indebted to you. In the most recent past, you stood by the nation and took the lead when national disasters, epidemics, landslides, etc. struck us, and I need your continued support for development of our country as we march forward as a peaceful society, rich with co-existence, reconciliation, harmony and understanding."

He assured that as long as he remains the head of the country, none of the war heroes would be allowed to testify before any war tribunals. Instead, such errant Army personnel, if any, can be produced before Courts and tried according to the existing law of the country, he added.

"Unlike the disgruntled politicians and some retired Army personnel allege saying that the War Heroes would be tried and punished, I, as the President of this country would not allow anyone be subjected to interrogations by foreign judges. You should not be misled by those baseless allegations and misleading statements."

"I commend all of you for the excellent services you rendered during the times of natural disasters and request you to extend your best cooperation for sustenance of reconciliation and peace in the country as a nation," he said.

The President also insisted that unlike in the past, overseas visa would not be denied for heroes in the future and that the Government will ensure their overseas visits are facilitated without any hindrance.

Sirisena underlined the need for everyone to maintain the hard-earned peace for the country's prosperity and assured that the Government would do everything possible to sustain the status-quo and make the Sri Lankan Army one of the best in the world.