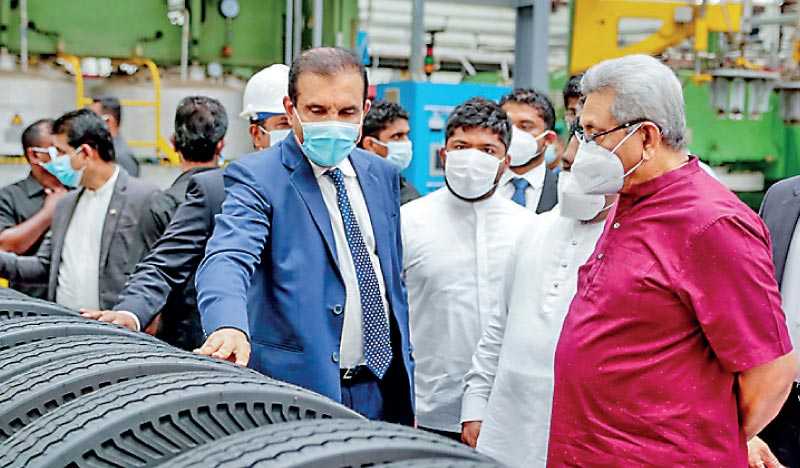 Southeast Asia's largest tyre manufacturing facility located at Wagawatta in Horana, was declared open by President Gotabaya Rajapaksa yesterday - pic by Pradeep Pathirana
---
Boost to local rubber industry, employment and exports
---
By Darshana Abayasingha 
---
South Asia's largest manufacturing facility for tyres and radials, Ferentino Tyre Corporation, was declared open by President Gotabhaya Rajapaksa yesterday in Horana, Sri Lanka. The facility constructed with an investment of $ 250 million can produce 2.4 million tyres annually employing Italian technology. 

The project, chaired by Nandana Lokuwithana, is facilitated by the Board of Investment of Sri Lanka, and will provide additional employment and entrepreneurial opportunities for Sri Lankans, whilst boosting the country's export sector. 

Speaking at the occasion, Minister of Industries Wimal Weerawansa said the initiative would provide great impetus to the rubber industry in Sri Lanka, as it would enhance demand and pave the way to provide a better price for growers. Weerawansa revealed that Sri Lankan tyre manufacturers at present can service 75% of local demand, and expressed hope that with the wide range of products offered by Ferentino, Sri Lanka would be able to service its total demand locally. 

The Ferentino Tyre Corporation will have the capacity to manufacture tyres for many types of vehicles, including SUVs, bicycles and even three-wheelers. Of the 2.4 million tyres produced annually, 80% would be for exports.

Minister Weerawansa's comments were echoed by Plantations Minister, Ramesh Pathirana, who also enthused at the opportunities for rubber tappers and growers. He noted that the Sri Lankan rubber industry has the potential to yield bigger export earnings than the country's tea industry, and identified this initiative as a great stepping stone in that direction. 

Ferentino Tyres will use locally sourced rubber as the main ingredient, thereby compelling the local industry to level itself to meet global expectations. Phase 1 of the project has already been completed and commissioned, whilst construction of Phase 2 is scheduled to be completed in March 2022. 

Lokuwithana noted that President Gotabaya Rajapaksa had on numerous occasions inquired on the progress of the plant, and he together with the government had provided necessary support to deliver the project. He welcomed the government's initiative to boost domestic manufacturing for local and global consumption, adding that Sri Lanka has the opportunity to take on the world with the correct support and direction. "We are excited to commence operations at this timely juncture giving the local economy a much-needed gentle push to recover from post-pandemic challenges, particularly pertaining to employment and export revenue," he said.

Lokuwithana is also Chairman of Ceylon Steel Corporation Ltd., and his other investments include the Marriot Al Jadaf Hotel in Dubai, the upcoming Cement Grinding Plant in Mirijjawila, Hambantota – which is billed to be commissioned in May – and Marangoni Industrial Tyres Lanka Ltd.

The occasion was also joined by Minister of Ports and Shipping Rohitha Abeygunwardena, who remarked that the government was intent on providing the required enabling environment for investment and entrepreneurs.