President Gotabaya Rajapaksa yesterday assured that all the corruption, malpractices and irregularities in the Government will be eliminated and an efficient public service in the country will be established.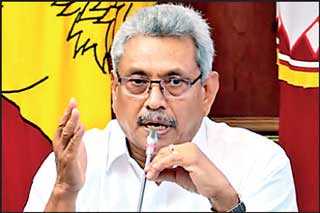 President

Gotabaya Rajapaksa


Rajapaksa emphasised that bribery, corruption and irregularities in the Government sector will cease to exist, and a Government dedicated to serve the citizens in a satisfactory manner would be established. Speaking at an election tour in Kalutara in support of the candidates representing Sri Lanka Podujana Peramuna (SLPP), President said there are over 1.5 million employees in the State service and still the hardships people face when seeking Government services are reported on a daily basis.

He said the Government has initiated to build an economic system to end the import-based trade system in the country and to give priority to local productions. President advised the crowd to enter themselves into the agricultural and manufacturing industries in order to reap full benefits offered in these sectors.

"It is time to incorporate modern technology to strengthen the farming economy. For this purpose, the Government has banned the importation of agri produce into the country. Job appointments for 150,000 underprivileged individuals and graduates will be given following the General Election. These measures and opportunities will aid the country in its development curve," Rajapaksa said.