But committed to strong relations with China
Says pre-2015 relations with China misunderstood, was only an economic partnership
Wary of getting caught up in battles between powerful nations
Assures will not do anything to undermine India's national security
To seek Indian investment during maiden visit
Wants Singapore, India, Japan, Australia to invest and not grumble about China relations


President Gotabaya Rajapaksa yesterday said he would renegotiate the Hambantota Port lease agreement, terming it a "mistake" and calling on the Chinese company to be open to the move while assuring that he remained committed to strong relations with the global superpower.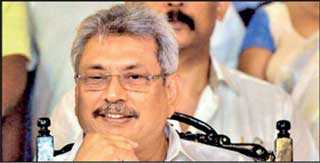 President Gotabaya Rajapaksa


Rajapaksa, giving his first interview since taking office, told Indian Journalist and Defence Analyst Nethin S. Gokhle that he remained committed to close ties with both China and India.

In an hour-long interview aired on Gokhle's Strategic News International (SNI) web platform and on the defence website Barthshakthi, President Rajapaksa stressed that Sri Lanka's close relations with China during his brother's 2005-2015 presidential tenure were misinterpreted by international analysts as a strategic military relationship, and claimed instead it was purely an economic partnership.

"We don't want to become a part of a big power rivalry," Rajapaksa stressed, pointing out that Sri Lanka would not do anything that would negatively impact India's national security.

Rajapaksa stated that he would seek to reassure India that Sri Lanka would not do anything to harm India's security interests and would be seeking continued Indian investment to Sri Lanka during his upcoming visit to New Delhi.

"We were never to give control of the port [Hambantota] to China; that was a mistake," Rajapaksa opined, pointing out that the decision was made by the previous administration.

"The previous Government gave it on a 99-year lease, and even though China is a good friend of ours and we need their assistance for development, I am not afraid to say that was a mistake."

Rajapaksa stated that he would request the Chinese to renegotiate the joint venture. Rajapaksa highlighted that the public was unhappy with the deal and pointed out that while leasing land for commercial purposes or for property development was acceptable, giving control of a strategic "economic location like a port" was not.

President Rajapaksa called regional and international powers such as Singapore, Japan, India and Australia to invest in Sri Lanka, acknowledging that the said countries viewed Chinese investment in Sri Lanka with suspicion.

"...in our point of view, it is commercial," he said of Chinese investment. "These countries should encourage their private industries to come and invest in Sri Lanka, without leaving [it] to one country [China] and then grumbling."

The new President asked world powers to understand Sri Lanka without pressurising the country and to join in its economic development.

President Rajapaksa, responding to a question, stated that he would reduce red tape and old regulations which hinder investments, calling for foreign investment in high-tech industries, manufacturing and education.

"I will create an environment for investment," he added.

Commenting on reconciliation and the way forward, Rajapaksa opined that a necessary environment needed to be provided for all citizens to be able to find employment, benefit from the fruits of development and live in dignity.

"We have to continue to develop these areas, push private industries to set up there to create more jobs and improve general and vocational education," he asserted, alleging that minorities that lived in the North and East were hoodwinked by both Sinhalese and Tamil politicians in the past.

"My focus is to develop these areas so that everyone has equal opportunity," he affirmed, arguing that with development and reconciliation this would automatically happen.

President Rajapaksa also claimed that there was an inaccurate perception of him as an authoritarian and racist individual.

"I am a disciplined person, that doesn't mean I am authoritarian," he stated, pointing out that he had proved in action that he was not racist nor did he work for only one section of the population.

"That is why I invited the Tamils, the Muslims and everybody to join me to develop the country and build it up," he argued, pointing out that the Opposition could paint him out as a dictator but the public would see him for who he was through his actions.

He called on the international media not to believe or propagate rumours, but to come speak to him and understand his ways. Rajapaksa argued that war crimes allegations against the Sri Lankan military and him were unfairly blown out of proportion while the actions of superpowers in conflicts were not highlighted.

"War is not a rosy thing; things don't go smoothly always," he argued, pointing out that Sri Lanka was a peaceful nation and had a rich cultural history spanning thousands of years. He called on the Tamil diaspora to work together with Sri Lanka and develop the country.

"I like the Tamil diaspora to forget about these things, nobody benefits from these things [allegations]. Work with the country to benefit all communities," he suggested, pointing out that if minority communities acted in a manner that was suspicious, it would trigger a reaction from the majority.

Rajapaksa claimed that even in so-called advanced societies, divisions existed. Nevertheless, he declared that all Sri Lankan citizens were equal.

"There will always be differences between communities, but through understanding they can coexist and thrive," he added.