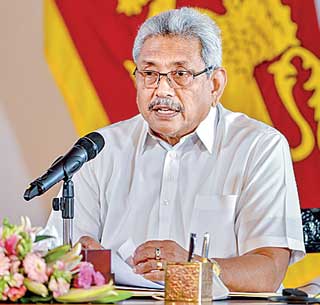 President Gotabaya Rajapaksa
---
President Gotabaya Rajapaksa yesterday indicated he was keen on a second term, a move that would contradict initial gestures by him and expectations from most that he would not re-contest.
During a luncheon meeting with owners of media houses, when asked how he expected to complete his programs within the remaining two years of his term, the President responded there was a further five years left, which seemingly gave rise to speculation that he would contest a second term.
Those close to Rajapaksa treated his response as an indication that he was keen on a second term.

After the meeting, the President's Media Spokesperson Kingsly Rathnayaka tweeted that the President had said that there were not only three years to implement his policies, but also five more years after that.

"Not only next three years, but there are five years after that for me to implement my policies," President Rajapaksa was quoted as saying.

During the meeting, the President also highlighted the rapid progress of the COVID vaccination and urged media owners to ensure accurate information was being disseminated. President Rajapaksa also articulated his passion for ensuring Sri Lanka becomes the world's first country to pursue 100% organic agriculture, as well as boost renewable energy. The President also requested that the media owners objectively highlight the benefits of these twin policies in the national interest.

Meanwhile the AFP reported that during his triumphant 2019 election campaign, Rajapaksa said he would be a one-term president.

He reaffirmed in March last year that one five-year term was sufficient to implement his ambitious manifesto, triggering a succession struggle within the powerful Rajapaksa family that dominates the government.

The elevation of the president's youngest brother Basil, 70, as finance minister earlier this month was widely seen as a move to groom him for the presidency.

Basil was thought to have edged out his nephew, Namal, the minister of sports and eldest son of Prime Minister Mahinda Rajapaksa, to be the next family leader.

With the entry of Basil, the cabinet now has five members of the ruling family.

Eldest brother Chamal, 78, is minister of irrigation. Several Rajapaksa family members hold junior ministerial positions and other key posts.