Salary revision of plantation workers early next year; temporary ban imposed on oil palm cultivation and climate change high on agenda
---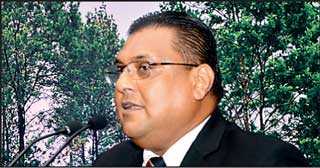 PA Chairman Bhathiya Bulumulla
---
Planters Association new Chairman Bhathiya Bulumulla on Friday called for sustainable solutions for the industry's pressing problems including wage hike negotiations.
"We face a very challenging future. Over the short-term our most pressing concerns are on the impending salary revision of the plantation workers early next year and with regard to the temporary ban imposed on oil palm cultivation," Bulumulla told the Planters Association Annual General Meeting.

"These are some of the problems we are to solve immediately if we are to have a reasonable chance of addressing longstanding structural issues. Such urgent issues can only be sustainably resolved if all stakeholders put aside their differences and work in collaboration for the betterment of the entire industry," the new Planters' chief emphasised.

In that context, Bulumulla unequivocally stressed that it is long past time that the industry implemented a sustainable wage model if it were to take this prestigious 150-year-old industry towards a brighter future.

"By sustainability we mean nothing less than a radical shift in the way that wages are paid in order to provide significantly stronger incentives and create an entrepreneurial mindset among workers. Such an alternative model must be linked to productivity in a similar manner to what has been implemented and operating in the smallholders for decades," he said.
"My vision is that we start working towards an alternative wage model that will benefit the plantation workers and sustain our industry for generations to come. In this mission, we require everyone's support," the Planters' Chairman said.

He said the Association will be working very closely with the new Government and the related ministers to obtain best support to resolve the above issues and also to develop a new vision for the future plantation industry.
According to Bulumulla, climate change is another major concern for the industry and the nation hence it was vital to seek out solutions to mitigate these challenges.

He also said the out-migration of youth from the plantations to urban areas also continues to cause acute shortages of workers. "To meet this issue, we must think differently and focus on enhancing how our industry performs and how it is perceived. The introduction of new technology will be essential this endeavour, enabling us to overcome longstanding barriers in order to achieve maximum productivity from our Asset base – Land," the Planters' Chief said.

Focusing on technology, he said it has advanced to the level where massive volumes of data can be rapidly analysed in order to improve the quality and speed of decision making. "In future, we will not be able to wait till the end of the month to see whether a company or estate is able to run at a profit or not.

"However, by capturing and analysing vital information on performance parameters basis we will be able to identify and respond to issues as they happen. Such capabilities will ultimately make our organisations more agile, resilient, and better able to navigate an often constrained, and increasingly competitive global market," he said.

In that context he said a few examples of these kinds of technology have already been implemented in Elpitiya Plantations PLC which has pioneered to do away from the 150-year-old Kangany's chit by introducing digital devices to the field staff to capture the data at divisional level in the Morning Muster and at various work places.