Chairman Ajit Gunewardene says new economy businesses hold great potential in Sri Lanka
In FY19 completes fourth capital raising since inception and valued company at pre-money valuation of Rs. 12 b equivalent to some of top 45 listed firms on CSE
Given the future growth trajectory of the company and improved prospects for the Colombo Bourse, the popular ride hailing app PickMe is firming up plans to go public next year.

"We are working towards a listing on the CSE within the next six to 12 months," PickMe Founder Chairman Ajit Gunewardene told the Daily FT.

He noted that the implementation of amended listing rules will help fast-track the listing of the company on the CSE.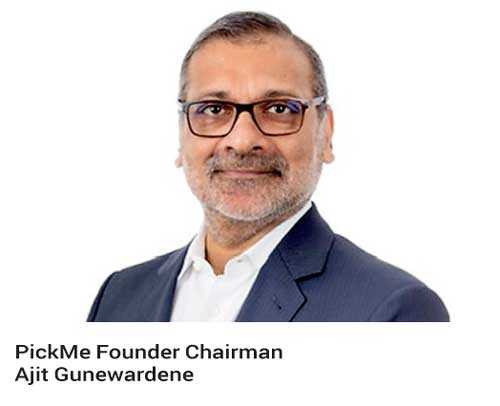 Plans for a 2020 listing is supported by the impressive growth of PickMe, whose owning company is Digital Mobility Solutions Ltd., as well as the future potential.

In FY19, the company concluded its fourth capital raise since inception and valued the company at a pre-money valuation of Rs. 12 billion.

"This would rank us amongst the top 45 companies listed on the Colombo Stock Exchange," noted Gunewardene, who himself was a former Chairman of the Colombo Bourse.

"To achieve this value after three years of operation is creditable and we are acutely aware of our responsibility to continue to create long-term sustainability, growth and profitability to ensure we maintain this momentum," he added.

The World Bank's private sector investment arm International Finance Corporation (IFC) participated in PickMe's fourth capital raise worth Rs. 700 million. All other investors in PickMe's cap table also joined in.

In the company's FY 2019 Annual Report released recently, Chairman Gunewardene said that investment in what one may term new economy businesses holds "great potential in Sri Lanka". "We are well positioned to lead the way in this space given our balance sheet as well as the technological expertise that we have built up within the company," he added.

Despite setbacks following the Easter Sunday tragedy, Gunewardene said the PickMe business model has significant potential over the long term.

In the immediate aftermath of the Easter Sunday tragedy, like all businesses, PickMe too was negatively impacted. "The main impact was as a result of the almost complete shutdown of economic activity in general and the booming tourism industry in particular. The multiplier effect of this industry is significant and has a direct correlation to the utilisation of ride hailing services. We now see a gradual improvement and we are confident this trend will continue for the rest of the year," Gunewardene said.

He expressed the belief that PickMe is still only at the tip of the iceberg of opportunity in its business. "It is our view that we can and will be the change agent of the business landscape in Sri Lanka. We are confident that the new economy is one that will grow exponentially, and we will be a significant part of it. We have all the tools in terms of human and financial resources to execute this strategy," he added.

According to him PickMe's advantage is that it doesn't have the legacy baggage of most old economy companies. "We don't have to transition into a technology company. We are a technology company. This is our DNA," Gunewardene emphasised.

Though the company is operating in a competitive landscape with a multinational giant, Gunewardene expressed the confidence that PickMe can battle them on all fronts by localising service with world-class technology to win.

"We don't believe in asking policymakers for protection. All we ask for is a level playing field and an enabling environment. Sri Lanka has a penchant for regulations but lacks the wealth for State investment beyond basics. This is our opportunity," he said.

"Through technology we democratise information and competition thus improving affordability and levelling the playing field. This creates easy access to markets and drives more users and hence more business to our partners. We create the network effect," the Chairman added.

He said that an integral part of PickMe's operating model is innovation that boosts productivity for its partners. This in fact is the formula required to create a competitive environment that will support a growth framework for Sri Lanka.