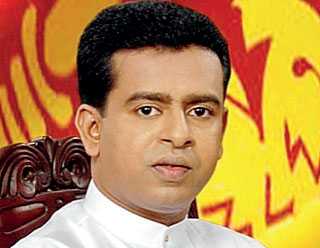 MP Buddhika Pathirana
---
Following his revelations in Parliament last week, SJB MP Buddhika Pathirana, yesterday filed a complaint with the Bribery Commission alleging malpractice with respect to the Government to affix tax stamps on imported and locally manufactured alcohol products.

The tender had been awarded to an Indian company, which is reportedly blacklisted in that country for malpractice regarding producing passports, and has been found guilty for similar crimes in Sudan, Liberia and other countries. In his complaint, Pathirana states that investigations must be conducted as to how the tender was awarded to a company with such a long history of malpractices.

Last week, he pointed out that QR codes on tax stamps already affixed on imported liquor bottles do not work, whilst the introduction of same for local liquor products would result in the Government losing over Rs. 1 billion annually.

A copy of the complaint and related files were handed over by Pathirana to the Auditor General's Department. The MP added that the President too had enquired after his revelation in Parliament and that he had shared his findings with the President.