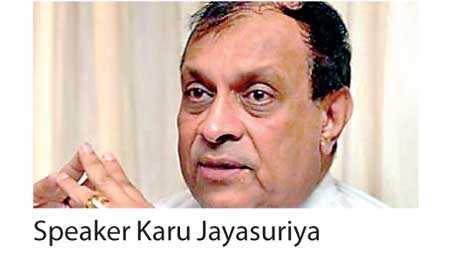 MR's statement of reconvening P'ment on Monday contradicted by others
Deputy Speaker confirms no P'ment on 5 Nov.
Uncertainty over date continues
Speaker to meet party leaders today
UNP says Speaker did not recognise MR as PM during meeting with President
No decision on giving MR Prime Minister's Chair
By Chathuri Dissanayake

In the absence of an official announcement by President Maithripala Sirisena regarding reconvening of Parliament, confusion reigned with different dates being quoted by different politicians depending on their political affiliations.

The first announcement of a possible change in the date to reconvene Parliament was made by Mahinda Rajapaksa, the new Prime Minister appointed by President Maithripala Sirisena, during a discussion with university professors last morning. Rajapaksa, quoting Sirisena, confirmed that Parliament will be reconvened on 5 November.

"I believe Parliament will be reconvened on 5 November. The President has decided to reconvene the Parliament on 5 November," said Rajapaksa, who ascended to the post of Prime Minister following the sacking of sitting Prime Minister Ranil Wickremesinghe during the meeting.

However, this was later revised to be either 5 or 7 November. The decision came after Speaker Karu Jayasuriya on Wednesday met the President with a renewed call to reconvene Parliament.

The United National Party (UNP), led by ousted Premier Wickremesinghe, considered the announcement a victory for democracy.

"We thank Speaker Karu Jayasuriya for his efforts to get Parliament convened before 16 November. We can say that we have won round one in our battle for democracy in this country," UNP MP Ajith P. Perera stated at a media briefing held at Temple Trees last morning.

However, as the day progressed, uncertainty set in with UNP politicians saying Parliament will be reconvened either on 5 or 7 November. By evening, it was unclear if the date had been advanced at all.

Deputy Speaker Thilanga Sumathipala told Daily FT that Parliament will not convene on 5 November, but failed to clarify when the revised date would be. The Speaker's Office, too, said that they are yet to receive any official confirmation on the date being revised.

When asked when Parliament will be convened, Sumathipala replied "Not on 5 November."

Newly appointed Minister of Skills Development and Vocational Training in the Sirisena-Rajapaksa Cabinet Dayasiri Jayasekara told Daily FT that Parliament is likely to be reconvened before 16 November, but was not able to give a specific date.

Expectations are high for the Speaker to reconvene Parliament in the event President Sirisena refrains from reconvening Parliament before 16 November.

"We believe that the Speaker can override the decision to prorogue Parliament as he has received signed requests of over 125 Parliamentarians to reconvene Parliament earlier," United National Party Spokesperson Harin Fernando told Daily FT.

Speaker Karu Jayasuriya, however, is set to meet the representatives of political parties to discuss the situation today at 9 a.m., a statement issued by the Speaker's Office said.

The Speaker is set to inform party representatives his position on the request made by political parties, including UNP, Illankai Tamil Arasu Kachchi (ITAK) party, and Janatha Vimukthi Peramuna (JVP) to reconvene Parliament immediately.

Speaker is set to inform party representatives on details of the meeting that took place with President Maithripala Sirisena on Wednesday evening, where he lobbied for Parliament to be reconvened earlier than 16 November.

During the meeting, Jayasuriya was also said to have responded positively to a request made by the President to facilitate new Prime Minister Mahinda Rajapaksa to carry out the functions of his Office.

According to sources at the Speaker's Office, Jayasuriya had responded that he will act as necessary as his intention is to ensure that the process is followed without any conflict while upholding the honour of everyone involved.

Deputy Speaker Sumathipala, too, yesterday said that the Speaker has agreed to recognise Rajapaksa as the new Prime Minister. However, in a statement, the UNP denied any such commitment by Jayasuriya, claiming that the Office of the Speaker has clarified that no such assurance was given.

"We can categorically say that the Speaker has not accepted Rajapaksa as the Prime Minister. We inquired from the Speaker's Office and the authorities there informed us that no decision has been made to provide the Premier's Chair to Rajapaksa," MP Perera said.