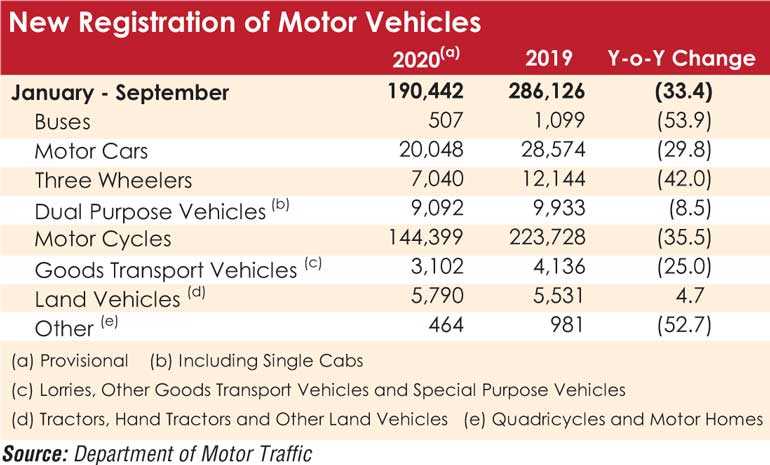 ---
Vehicle Importers Association's ex-Chief acknowledges reasons for curbs but suggests better way forward
---
By Charumini de Silva
---
Vehicle importers yesterday said COVID-19 and import restrictions have put several vehicle traders out of business, prompting the industry to call for help.

"There are a number of small and medium scale car sales island-wide that have gone bankrupt. Most of them were unable to maintain their business with no stocks to sell, pay rents and salaries," Vehicle Importers Association of Sri Lanka (VIASL) Immediate Past President Ranjan Peiris told the Daily FT.

He reiterated that the complete suspension of all vehicle imports had caused great hardship to the entire industry. It requested the Government to provide a firm timeline on when it planned to recommence imports and if the expected date was several months into the future, it requested the Government to provide support to the industry, so that it could sustain its remaining employees and overheads as importers would soon have no stocks and no vehicle sales income.

With zero sales for three months during the first lockdown in March to June, and price hikes ranging from 10% to 15% for all vehicles, he said formal motor trade had come to a halt during the past nine months.

As a result, the most popular Japanese vehicles have gone up in prices by Rs. 200,000 to 500,000 at present. Accordingly, the new prices are as follows: Toyota Vitz Rs. 4 million to Rs. 4.5 million; Toyota Passo Rs. 3.8 million to Rs. 4.2 million; Toyota Premio Rs. 9 million to Rs. 9.5million; Toyota Axio Rs. 7.5 million to Rs. 7.8 million; Toyota Rise Rs. 7 million to Rs. 7.5 million; Toyota CHR Rs. 8 million to Rs. 8.5 million; Honda CRV Rs. 10.2million to Rs. 10.25 million; Toyota Double Cab Rs. 10.2 million to Rs. 10.25million and Suzuki Every Van Rs. 3.2 million to Rs. 3.5 million.

Despite expressing concern, Peiris said importers also understand the predicament of the Government which is keen to preserve foreign reserves. VIASL however hopes the Government will consider relaxing the ban in early next year.

The Association this year had not submitted any proposals for the 2021 Budget. "The COVID-19 pandemic has really put almost all economies navigating in uncharted waters. Right now, the priority of all citizens is a healthy nation. We understand the rationale behind the Government decision to impose an import restriction was to curtail the foreign currency outflow in this critical time," he said.

Peiris however said that the association had submitted a proposal for authorities to regularise importation of vehicles in future, thereby the economy would not have to deal with such extreme policies.

"Our members also prefer to bring down vehicles under a proper mechanism. There were no restrictions on vehicle importation and people just flooded the market with no major demand for it. Today, we all face these difficulties because there was no proper control over it and ultimately the industry and the economy is paying for it," he said.

He also said that VIASL put forward another proposal before the pandemic, which would allow its members to import commercial vehicles, thus contributing to the economy; but the Government turned a deaf ear for the plea of the industry.

Peiris also pointed out that only around 1,000 vehicle units (except two-wheelers and three-wheelers) were available, which was adequate for a maximum of three to four months.