Cementing its credentials as the 'Truly Sri Lankan Bank,' Pan Asia Bank has become the proud recipient of a $ 7.75 million (approximately Rs. 1.5 billion) Green Bond launched by the Switzerland-based Symbiotics, the leading market access platform for impact investing.

This is the first green bond issuance by Symbiotics and Pan Asia Bank with the intention of deploying the funds for green financing for its clientele.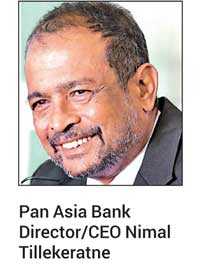 The Green Bond proceeds are in the form of a four-year, senior unsecured, local currency loan to Pan Asia Bank, and the main investor is Skandinaviska Enskilda Bank (SEB), the leading Nordic banking group.

Being awarded this bond at such a turbulent time in the global economy, is a testament to the trust and confidence Symbiotics and SEB have placed in Pan Asia Bank and its commitment to green financing. This initiative also is an indicator of the confidence the global players have in the bright economic prospects of Sri Lanka.

The bond is the first Green Bond issued via Symbiotics' sponsored bond issuance platform (Micro, Small and Medium Enterprises Bonds S.A.) since its Sustainability, Social and Green Bond Framework was certified in December 2019 by DNV GL.

Commenting on this initiative, Pan Asia Bank Director/CEO Nimal Tillekeratne said: "It is indeed an honour to be chosen to partner with Symbiotics in this novel and unique venture to champion the Green cause further in Sri Lanka. Pan Asia Bank has always demonstrated its commitment to further the sustainability cause in Sri Lanka through initiatives such as Green lending through its Social and Environmental Management Systems (SEMS) policy, appointment of Green champions and investments made in its staff by providing training on green lending. With these funds, we will focus our attention on promoting indigenous crops that will also support the Sri Lankan Government's initiatives to become self-sufficient through strengthening sustainable agricultural practices. We are proud to lead the local banking industry when it comes to the worthy and important cause of sustainability."

Symbiotics, commenting on the arrangement with Pan Asia Bank, said: "This Green Bond is a confirmation of Symbiotics' strategy to make Sustainability, Social and Green Bonds accessible for smaller issuances in emerging and frontier markets. The issuance of this Green bond is fully aligned to our mission to foster sustainable development in emerging and frontier economies and we are excited to nurture and grow this segment of the MSME market even further."

Committed to adding value to its vast SME base of customers, Pan Asia Bank will be utilising these funds to support and promote local agriculture with special emphasis on encouraging use of indigenous seeds, sustainable agriculture, renewable energy and energy efficiency projects.

Sri Lanka's agricultural sector is in urgent need of adoption of sustainable practices and the bank is at the forefront of green financing in the country, having won the prestigious Global Climate Partnership Award trophy in 2019 for its green lending efforts.

Pan Asia Bank is a pioneer promoter of green financing in Sri Lanka and plays a pivotal role in making a local positive impact in the sphere of sustainability. Prospective clients who are wish to apply for funding for renewable and energy efficiency projects, may visit any of the bank branches.

Pan Asia Banking Corporation PLC is a public limited liability company incorporated in Sri Lanka in March 1995. It is a licensed commercial bank under the Banking Act No.30 of 1988 and listed at the Colombo Stock Exchange.

Backed by a sterling track record of 25 years of excellence, Pan Asia Bank is strengthened by a diversified portfolio of innovative and comprehensive banking solutions which include a wide range of Retail, SME, Corporate and other banking products.

Fortified by a solid branch network of over 85 branches spread across Sri Lanka, Pan Asia Bank has also been recognised as the 'Fastest Growing Commercial Bank in Sri Lanka' for four consecutive years by the 'Global Banking & Finance Review' for its robust financial performances over the years.

Symbiotics is the leading market access platform for impact investing, dedicated to financing micro- small and medium enterprises and low- and middle-income households in emerging and frontier markets.

Since 2005, Symbiotics has structured and originated some 4,000 deals for over 450 companies in almost 90 emerging and frontier markets representing more than $ 5.5 billion. These investments have been purchased by more than 25 fund mandates and more than 50 third party specialised fund managers, forming a growing ecosystem and marketplace for such transactions.