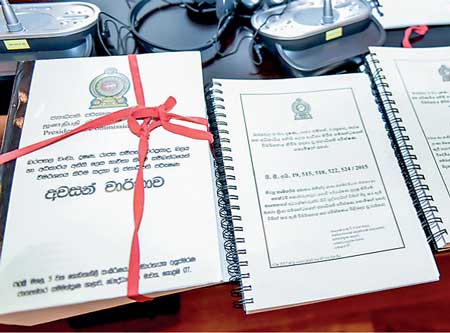 The Presidential Commission of Inquiry appointed to investigate into Serious Acts of Fraud and Corruption yesterday handed over its final report to President Maithripala Sirisena.

"It is an important step in our fight against corruption," the President tweeted, while announcing the receipt of the report.

The report, consisting of 1,135 pages, was handed over at the Presidential Secretariat by the chairman of the commission Preethi Padman Surasena while other members High Court judge Vikum Kaluarachchi, Piyasena Ranasinghe, Gihan Kulathunga and retired Auditor General P.A. Premathilake, were also present.

The Presidential Commission of Inquiry to investigate and inquire into Serious Acts of Fraud, Corruption and Abuse of Power, State Resources and Privileges (PRECIfAC) had previously handed over reports of 17 investigations to the President.

The PRECIFAC, in addition to the reports of the 17 cases of serious fraud and corruption prepared after extensive investigations and analysis of evidence, will also hand over the recommendations on the measures to be taken in the future to prevent such crimes.

President Sirisena, through a gazette notification on 10 March 2015, established the PRECIFAC to investigate fraud and corruption as well as the misuse of power that took place from 10 January 2010 to 10 January 2015.