Requests Speaker to ask PSC appointed to investigate allegations against Bathiudeen to hand over interim report in a fortnight


Prime Minister Ranil Wickremesinghe yesterday asked that an interim report of the Parliamentary Select Committee (PSC) appointed to investigate allegations against Industry and Commerce Minister Rishad Bathiudeen be handed over in two weeks. Wickremesinghe made the request from Speaker Karu Jayasuriya. A 40-member PSC was appointed on Wednesday, following discussions within the United National Party (UNP) parliamentary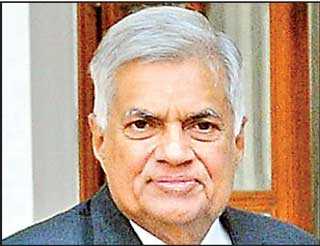 Prime Minister Ranil Wickremesinghe
group. However Opposition Leader Mahinda Rajapaksa has said he is undecided on being part of the PSC, as the Government would have more power to decide the outcome of the report made by the PSC.

The PSC came after the Joint Opposition, which is made up of parliamentarians that backed Rajapaksa, handed over a No-Confidence Motion against Bathiudeen. The Opposition demands that Speaker Karu Jayasuriya give a date for the No-Confidence Motion to be debated in Parliament. The pro-Rajapaksa faction insists that the UNP appointed a PSC as a delaying tactic and are indirectly working to protect Bathiudeen.

It was also reported this week that Bathiudeen had agreed to resign from the Government if President Maithripala Sirisena and Prime Minister Ranil Wickremesinghe request him to do so. This was following a discussion at the Cabinet meeting held on Tuesday.