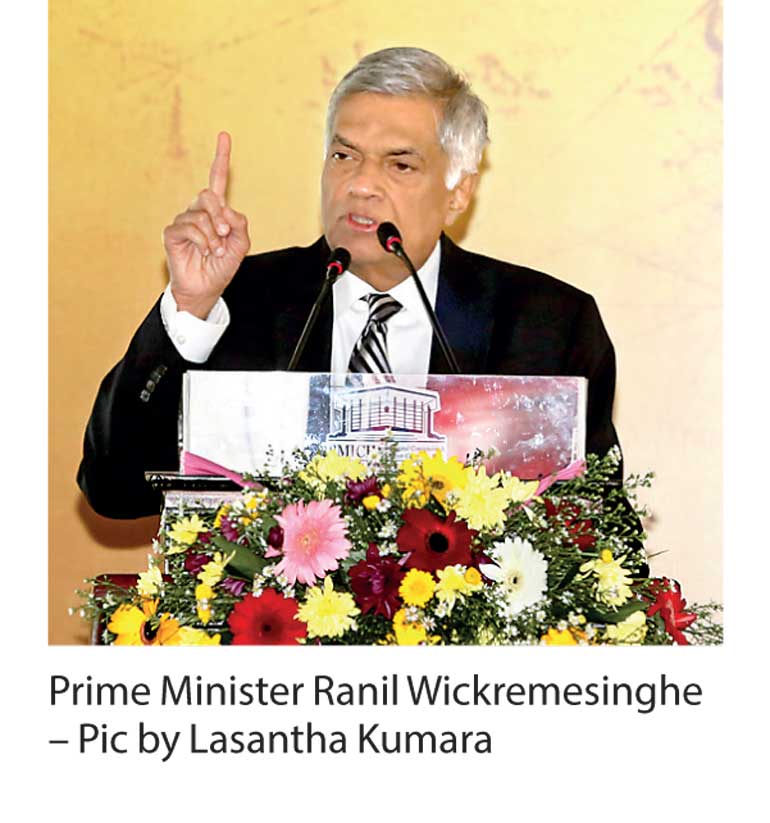 Wickremesinghe says SL has attracted 300% higher FDI than $ 1.6 billion in 2014
Says two years dedicated to macroeconomic stability, ready to tackle specific sectors now
Wants to triple earnings from gems and jewellery, increase jobs by 100,000
Believes SL left behind in global gem sphere, wants industry to present proposals for discussion
By Uditha Jayasinghe

Prime Minister Ranil Wickremesinghe yesterday expressed confidence Sri Lanka's Foreign Direct Investment (FDI) would pick up significantly and would likely exceed the $ 1.6 billion seen in 2014.
Wickremesinghe told a gathering at the gem and jewellery exhibition FACETS at the BMICH that he, during a recent discussion with International Trade and Development Strategies Minister Malik Samarawickrama, was told by the latter that the country had attracted 300% higher FDI than what was calculated in 2014.

In 2014 Sri Lanka attracted $ 1.6 billion in FDI. In 2016 FDI dived 54% to $ 450 million year-on-year, compared with $ 970 million in 2015, which Minister Malik Samarawickrama at the time acknowledged was "extremely low by any standard." However, since then the Government had worked to revamp the Board of Investment and had also targeted improving Sri Lanka's ease of doing business rankings to attract investment.

The Prime Minister was also upbeat about three LNG plants to be kicked off over the next few months. Two will be funded by Japan while a third is likely to receive funding from China, he said, adding that the Government would tender for a fourth shortly.

"We concentrated on stabilising the macroeconomic environment during the past two years. When we took over, debt was a huge problem and no one believed that we would be able to tackle it. But now we have strengthened the economy and from this point onwards we can concentrate on specific sectors. That is why I have asked the gem and jewellery industry to ready their proposals and come to us to discuss them," he said.

As a first step the industry should target tripling the current $ 500 million in earnings, the Prime Minister advocated, pledging support. He noted that as the industry was governed by different institutions it may be prudent to consider one overarching law that would lay out the framework for the industry rather than attempt to make piecemeal changes.

"Our reputation for gems predates our reputation for tea or apparels. There is evidence that we traded gems thousands of years ago. However, sadly this momentum was lost and now many destinations outside Sri Lanka, such as Hong Kong, have become hubs for the gem industry. Sri Lankans are now travelling to other countries to find gems for imports."

The industry currently supplies employment for an estimated 400,000 people but Wickremesinghe recommended stakeholders attempt to increase jobs by an additional 100,000. The Prime Minister admitted this may be difficult in the mining sector alone and pointed out the jewellery segment needed to take a more proactive role to market Sri Lanka's gem industry to the world. He also called for the brand of Ceylon Sapphires to be used extensively by the industry to promote the highs standards of Sri Lankan gems.

He also said the Government was ready to consider establishing a dedicated zone for the industry if its stakeholders were enthusiastic about such a proposal.