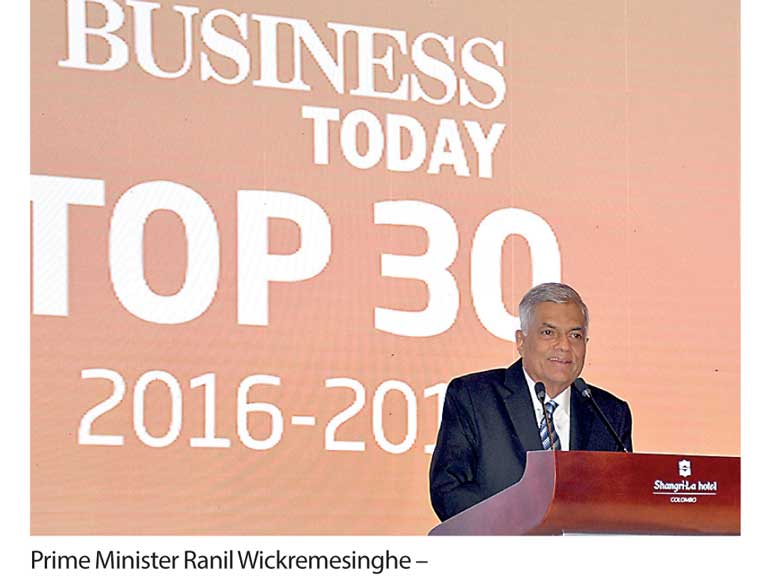 Premier Wickremesinghe makes most private-sector friendly statement
Confesses "I have confidence in private sector"
Says to accelerate growth we have to look to the private sector
We need private sector to expand. We want all of you to succeed and create jobs
Assures SL won't be doomed with FTAs but trade adjustment package will ensure greater competitiveness
Insists liberalisation and reforms way forward
Budget 2018 designed to enable private sector investing in growth, jobs and income
Laments SL in the recent past has been too reliant on Govt. spending
Though GDP grew fivefold since 2005 exports only doubled suggesting there had been a lot of wasted investments by past regime
​
By Nisthar Cassim

Prime Minister Ranil Wickremesinghe on Monday made perhaps his best pitch to woo a more proactive private sector role to usher in greater socioeconomic prosperity in the country, saying the time was right for reforms and liberalisation as no country has prospered with Government investments alone.

What could be described as the "most private sector-friendly or pro-private sector" statement, the Premier, who in the past has never minced his words when being critical of the private sector, said: "I have confidence in Sri Lanka's business, the private sector."

This remark, at the Business Today Top 30 corporate and inaugural Top 15 passionate business people awards at the Shangri-La hotel, Colombo, was to reinforce the challenge before the business community midst multiple trade liberalisation initiatives necessary for the future good of the country.

"Some say with FTAs Sri Lanka is finished. No Sri Lanka won't be finished. We are not looking at opening up for all foreign goods at once.
We will phase out the implementation of FTAs over a period of 8-10 years, a period which will enable local businesses to grow, become more competitive, go out into the world, to be brave. During this period the Government will offer a trade adjustment package to strengthen the local private sector and be competitive and export-oriented. I have confidence in Sri Lanka's business, the private sector," the Premier emphasised.

"We need the private sector to expand. We want all of you to succeed and create jobs," declared Wickremesinghe earlier on in his speech

Having highlighted the good news of Standard and Poor's (S&P) upgrading Sri Lanka's outlook to stable from negative and the rating agency's positive comments, the Premier stressed that Sri Lanka had growth potential but the challenge was to maximise it and accelerate growth and ensure that the looming debt reduction was done at a shorter time, not 25 years but 15 years. This is possible if we earn a few more billion dollars and earn more exports, he added.

"To accelerate growth we have to look to you in the private sector," Wickremesinghe told those present at the BT Awards and also those outside including the SMEs. "If only the private sector moves the growth will come," the Premier emphasised and recalled that is what the UNP Government did in 1977.

The Premier lamented that Sri Lanka in the recent past had been too reliant on Government spending. "Every rupee spent to create GDP growth does not result in creating economic growth. In the last 10 years or since 2005, our GDP had grown by four- or fivefold but exports have increased by only twofold. So in that GDP growth there has been a lot of wasted investments. You can put money in roads, infrastructure, but in the long term it will not create the jobs we need. That growth and jobs will only come from private investment, be it local or foreign," pointed out the Premier.

"So firstly we want to encourage our local private sector to expand and at the same time encourage foreign private sectors and their investments. We cannot do this (expand economy) by ourselves but also rope in foreign investors as we haven't got sufficient capital and technology if we are looking at accelerated growth. The other is we need the foreign markets," he added.

The Premier said the Government's policy of giving new incentives was to encourage maximum investment in the coming year. This is why the 2018 Budget presented by Finance Minister outlined the provision of funding (Development Bank), incentives and liberalisation.

"Budget 2018 is designed to enable the private sector investing in growth in jobs and income and the Government Budget will carry to redeem the debt, and spend on housing, education, health and other infrastructure. I hope all those present today and others will join us in this journey to become the hub of the Indian Ocean," the Prime Minister appealed.