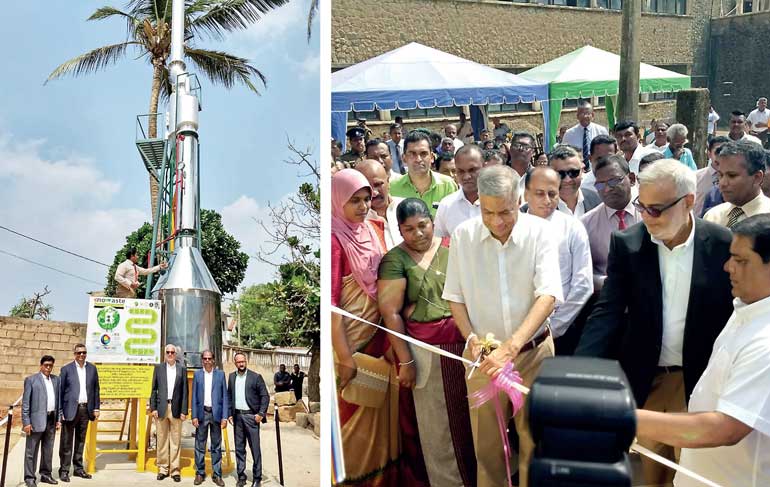 Ground breaking initiative by India's Steel Tech Cort Solutions Ltd., and local rep General Engineers & Suppliers Ltd
Initial capacity of fuel free incinerator is 150 kilos of solid waste burnt in 20 minutes; ash and hot water are by-products
Prime Minister Ranil Wickremesinghe recently opened an eco friendly solid waste disposal pilot project in Galle Municipality.

The ground breaking project using fuel free incinerator is by India's Steel Tech Cort Solutions Ltd., and local rep General Engineers & Suppliers Ltd.

The eco-friendly technology enables burning of 150 kilos of solid waste within 20 minutes with ash and hot water as by products.

'NOWASTE' is an eco friendly and economic solution for solid waste disposal, which runs on the principle of incineration, while addressing the major drawbacks of conventional incinerators like a) Use of Fuel and Resultant Environmental Impacts b) High Initial Investment c) Recurring Costs d) Extensive Space.

'NOWASTE' works on Controlled Oxygen Rotating Technology, incinerates solid waste by combustion, using atmospheric oxygen, converts it into ash, heat, steam, and gas causing minimal environmental impact. Manufacturing cost is comparatively very low, the fuel free operation avoids recurring costs, and the compactness ensures minimum space for installation.

'NOWASTE' can be implemented commercially for municipal waste management as well as for large and small-scale waste management. This is the very first incinerator capable of disposing wastes at the source without the use of any fuel. The waste piled up in industries, auditorium, educational institutions, hotels, hospitals and health centres, super markets, residential apartments, railway stations, etc., can be easily disposed off with minimum investment and at absolutely no recurring cost. The unit is so compact and portable that erection and handling are effortless.

'NOWASTE'- Fuel free incinerator advantages are as follows:

1. 'NOWASTE' runs without any fuel. The technique is of injecting atmospheric oxygen through the specially designed nozzles to the pre-lit waste materials in the combustion chamber.

2. Being a sophisticated device smaller in size, the cost of installation is minimum and there are no recurring expenses as this is fuel free and minimum maintenance.

3. Since the equipment is not complicated, the operation and running do not demand the services of skilled technicians.

4. The compactness of 'NOWASTE' ensures that the space required for installation is minimal. It is so portable that it can be installed even on rooftops.

5. The possibility of installing at the source of waste generation, ensures practicing the contemporary slogan 'disposal of waste at source'.

6. The chances of hazardous emissions are higher while incineration is done involving fuels. The equipment uses no fuel and hazardous emissions are minimal compared with fuel-based incinerators.

7. The rate of incineration (quantity of waste disposed per hour) is at least ten times higher than that of conventional fuel based incinerators.

8. Inside the four layer thermal insulated chamber, very high temperature (>9000C: 1200 0C) is attained within a short while and the same is sustained for hours on. Hence the chances of Dioxin exposure are rare.

9. The built-in emission control devices effectively prevent particulates, scales down the density of smoke and odour and ensure normal emissions at par with set relevant standards.

10. The four layer thermal insulated chamber ensures normal atmospheric temperature on the outer surface even while the unit is in operation. This ensures easiness of use and safety of users.

11. Our burning process is unique using patented technology "CORT", Controlled Oxygen Rotating Technology. The emission standards for Combustion and Incineration Technologies are at par with US EPA and European Emission Standards. It is by far below the limits prescribed by the State and Central Pollution Control boards of Countries.

12. The working principle and procedure of "NOWASTE" WtECortifier" entirely differs from conventional incinerators. Incinerators are normally huge mechanism, consume hydrocarbon based fuels and electricity. Apart from the emissions of the burning garbage there will be hazardous discharge of the fuel itself. The diesel exhaust contains various inorganic and organic pollutants, which are Group 1 Carcinogen as per the report of IARC (International Agency for Research on Cancer).

"NOWASTE" Waste to Energy [WtE] CORTIFIER" plants harnesses the huge aggregate of heat produced by combustion of combustible, non-hazardous solid wastes by generating steam and hot water supply for industrial and commercial customers substituting conventional electrical and other fuel based steam boilers. It not only saves considerable amount of fuel and electricity but also prevents hazardous fuel emissions.

NOWASTE" WtECortifier has been installed at various establishments like hotels, business establishments, schools, municipalities and hospitals and it has been successfully generating clean energy. Few of its clients are, Vivanta By Taj – Trivandrum, Baby Memorial Hospital, Calicut and Malabar Medical Research Centre, Kozhikode, 'CIAL' (Cochin International Airport Limited), 'IIST' (Indian Institute of Space Science and Technology), etc.

NOWASTE WtE (Waste to Energy) fuel free solid waste management plants are designed, developed and implemented by Steel Tech Cort Solutions Ltd., Kerala India which is an ISO 14001: 2015 and ISO 9001: 2015 Certified company, works on the elementary principles of thermodynamics. NOWASTE is represented in Sri Lanka by General Engineers & Suppliers Co. Ltd.