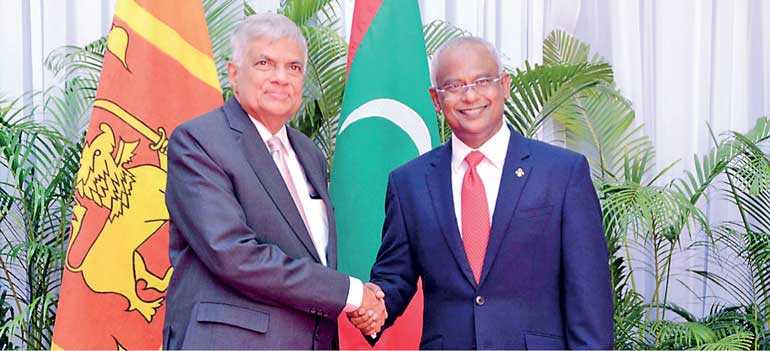 Prime Minister Ranil Wickremesinghe and President Ibrahim Mohamed Solih when the former arrived in Malé for an official visit yesterday
During ongoing visit both sides agree on 90-day free visa
Sign several MoUs, hold talks on future cooperation
RW to address Maldives Parliament today
Prime Minister Ranil Wickremesinghe yesterday met Maldivian President Ibrahim Mohamed Solih as he kicked off his official visit to the country, holding discussions and signing several Memorandums of Understanding (MoU).

The Maldives and Sri Lanka exchanged an Agreement of Cooperation and three MoUs to facilitate practical engagement between the two governments. Prime Minister Wickremesinghe is also scheduled to address the Maldives Parliament today.

These included an agreement on the facilitation of Visa Arrangements, which will supersede the previous arrangement of 2008. Under this renewed agreement, free 90-day on-arrival visas for visitors between the two countries will continue to be provided. Nationals of either country wishing to conduct business and pursue investments can be granted multiple entry non-resident business visas, thereby facilitating commercial engagements and private sector collaboration, the Prime Minister's media said.

Further, this agreement will also facilitate multiple entry visas for Maldivian students enrolled in Sri Lankan educational institutes, and for their parents and legal guardians provided the students in question are under 18 years of age.

A MoU on Cooperation in the area of Social Protection between the two countries was signed to help promote cooperation between the two countries in terms of providing support to and protecting vulnerable members of society, including children, the elderly and persons with disabilities.

A MoU on Higher Education under which the Maldives and Sri Lanka will pursue expanding education opportunities for students of both countries, whilst also sharing knowledge and expertise pertinent to the water sector.

A MoU on Vocational Training and Youth Development, which will increase knowledge and experience sharing pertinent to helping youth develop their social and leadership skills. This agreement will also facilitate cultural exchanges between the students of both countries and facilitate training for both countries' academics.

President Solih and Wickremesinghe also delivered a Joint Press Statement at the President's Office, as part of the Prime Minister's ongoing Official Visit to the Maldives.

In their statements, both leaders highlighted the enduring friendship that defines the relationship between Sri Lanka and the Maldives. This, in turn, both leaders noted, has contributed to the excellent cooperation that exists between the two countries.

President Solih's remarks reiterated that the Maldives and Sri Lanka enjoy a traditionally close and significant relationship, with values, history and culture intertwined. He added that interactions between the two countries go beyond even recorded history.

Further, he expressed gratitude for Sri Lanka's numerous assistance to the Maldives over the years. He highlighted Sri Lanka's expert aid in capacity building and human resource development, especially in areas of health, education, defence, youth development and sports, which has proven a boon to the Maldives' socioeconomic development.

Both President Solih and Prime Minister Wickremesinghe expressed their satisfaction at the substance and pace of cooperation on the international fora, bilaterally and multilaterally, since the President's visit to Sri Lanka in February. The President noted that significant progress is being achieved, and discussed ways to continue to expand and develop the bilateral relationships between the two countries and to cooperate even closer on consulate matters.

President Solih noted that the MoUs exchanged yesterday are precisely to contribute to this objective, and that the visa facilitation agreement will ease the issue of parental, guardian and student visa for Maldivians studying in Sri Lanka and help enrich our cultures and economies collectively.

President Solih continued to note important contributions by the Sri Lankan Government in aiding the Maldives, citing the Health Sector in particular. He expressed his appreciation for the kind hospitality and excellent services provided to Maldivians seeking healthcare in Sri Lanka. In particular, the President noted the decision of the Sri Lankan Government to allow Maldivians to seek organ transplant services in Sri Lanka.

The two leaders reviewed ongoing cooperation in important sectors as health, education, regional governance and the peace and security of the Indian Ocean.

International issues of concern were also discussed. Both countries agreed to redouble the efforts to protect people from the threat of terrorism, with President Solih expressing his deepest sympathies for the people and Government of Sri Lanka for the devastating terrorist attack in February.

The President and Prime Minister also reiterated that climate change is an urgent threat that needs immediate attention in both mitigation and adaption, and agreed on the need to work with all countries to combat terrorism and counter violent extremism within the region and beyond.