By Ashwin Hemmathagama

Prime Minister Ranil Wickremesinghe categorically denied any efforts taken to record telephone conversations or the violation of media freedom by threatening media personnel under the Unity Government.

Highlighting a recent incident which led the Colpetty police to obtain statements from two announcers of Neth FM, who conducted the Balumgala program, and the four listeners who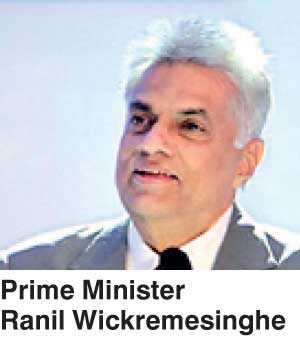 telephoned the particular radio channel, the Prime Minister told the Parliament that the police was doing their duty based on a written complaint received from the Deputy Minister of Sustainable Development, Wildlife and Regional Development Palitha Thewarapperuma. "This Government established media freedom and have worked to uphold it. But, what we have here is the action police took based on a complaint received about Neth FM. Minister Thewarapperuma has logged a written complaint about a specific news item on the Balumgala radio program of 9 March. Having received a written complaint, an investigation had to be conducted," he said.


According to the PM, the announcers as well as four other listeners were among those who gave statements. "The announcers who conducted this program, Charith Dharmasena and Chamika Geeth Gayan, were asked to visit the police station to record a statement. Ewventually, their statements were recorded, and having obtained further information, the Colpetty police filed the B report 90551 at the Fort Magistrates Court on 8 May. The police have requested permission to obtain statements from three more people," he added.


"The police requested permission from the magistrate to obtain statements from Champika Niroshan of Uhana, Renuka Chandani Kumari of Ratnapura Palabaddala, H.D.H. Dilani of Kandy, and Don Saman Kumara of Ratnapura. Let me look into how the police received the telephone numbers of these people. But, I don't know how the police received the numbers," said the Prime Minister.

However, highlighting a recent exposure on New York Times and the threatening of foreign journalists, the PM said: "We are not against Neth FM. Such programs are aired because of the prevailing media freedom in the country. We are against threatening media and media personnel. But, the recent developments show threatening of the Editor and others at New York Times. How they were threatened was openly published in the New York Times."