Says impractical to set timeframes to deal with terrorist problem
'Lone wolf attack' possibility cannot be ruled out
Better coordination among Tri-Forces, Police and international intelligence to deal with threats
Clarifies ex-Minister Rishad did not pressure him to release any suspect in custody
Says telephone calls were only to inquire if particular person was taken in by Army
"No one has influenced me to release anyone under custody over the terrorism charges": Army Commander


By Chandani Kirinde

Army Commander Lt. Gen. Mahesh Senanayake yesterday told a Parliamentary committee that there is no "imminent" threat of another terrorist attack but it is also not practical to say this problem is completely over.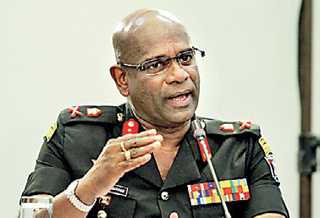 Army Commander Lt. Gen. Mahesh Senanayake – Pic by Chamila Karunaratne


"We cannot give a percentage and say that the problem has been solved by this percent but given the number of arrests we have made since the attacks and the explosives we have recovered, I can say there is no imminent threat," the Army Commander told the Parliament Select Committee (PSC) appointed to look into the Easter Sunday attacks.
The Commander also said it is not realistic to put a timeframe and say the terrorists can be defeated with a certain period of time. "We are still vigilant about the remnants of the LTTE 10 years after their defeat. Similarly, we have to be alert about this group as well," he said.

The Commander said "lone wolf attacks" which have taken place in several countries cannot be ruled out from happening here.

"There is a possibility of what we term a 'lone wolf attack' taking place. Next time it might not be explosives and guns. They could use vehicles, knives, water or fire to strike. It can happen at any time in any country. The nature of a lone wolf attack is that terrorists could inflict maximum damage and destruction spending few resources," he said.

The Commander added that there is a better coordination among the Tri-Forces and the Police intelligence officers to ensure security. "We have received the support of intelligence communities of the neighbouring countries. We are coordinating with everyone responsible to ensure that there would be no incidences," he said.

Asked if the arrest of intelligence officers in the past few years could have led to the breakdown of security establishment, Lt. Gen. Senanayake said it is wrong to say the entire intelligence mechanism would collapse due to this.

The Army Commander also responded to queries about reports that he had come under pressure to release a suspect in Army custody by former Minister Rishad Bathiudeen saying that "no one has influenced me to release anyone under custody over the terrorism charges".

The Commander said that the former Minister had called him thrice to inquire about a suspect by the name of Ishan Ahmed. "The Minister is known to me so are many others in Parliament. He called me personally to ask if a person by that name is in their custody. I said I did not know and that I would check and let him know. By the time he called me again, I had still not got the information. When he called me the third time, I had the information and confirmed there was a terror suspect in our custody by that name and he was taken in from Dehiwala and told him to make inquiries one-and-half-years later. It was a very cordial conversation," he said.

When asked by Committee Member Field Marshal Sarath Fonseka what he meant when he said to check with in one-and-a-half-years, Lt. Gen. Senanayake said he was aware by then that the suspect was part of a network that the Army has been keeping a tab on and the usual detention time under PTA and Emergency Regulations could last up to one-and-a-half-years.

"Within 24 hours of taking such a person into custody, it is our duty to hand him or her over to the Terrorist Investigation Division (TID). Thereafter they could hold such a suspect for one-and-half-years. The period has now been reduced to one year. With my experience of dealing with similar cases and as per the charges, I knew he could be held for such a period of time," he said.

Much of the Commander's testimony yesterday was taken on camera due to the sensitive nature of the information he would divulge.