---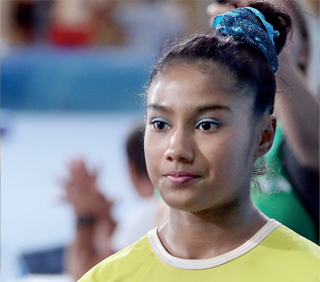 Milka Gehani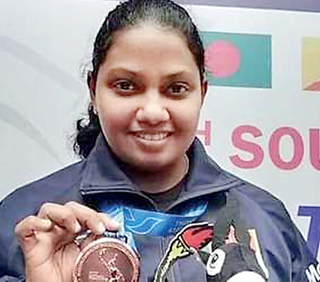 Tehani Egodawela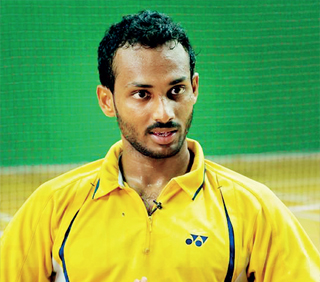 Niluka Karunaratne
---
 NOC Chief blames lackadaisical attitude of Athletics Association officials
---
By Sa'adi Thawfeeq
---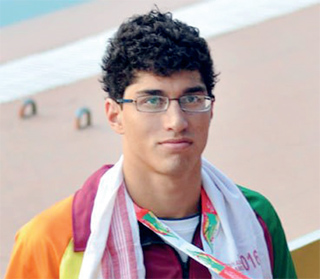 Matthew Abeysinghe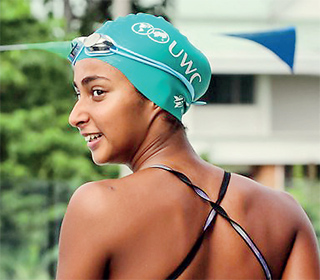 Aniqah Gaffoor
---
Athletics, a sport in which Sri Lanka has won their only Olympic medals – two silvers, 52 years apart – one in 1948 and the other in 2000, may not have a single representative participating at the upcoming Tokyo Olympic Games.

That sad situation can be attributed to the lackadaisical attitude of the Athletic Association of Sri Lanka officials, who, according to the National Olympic Committee of Sri Lanka (NOC) President Suresh Subramaniam, has not taken any trouble to prepare the athletes for the mega event.

"The Athletics Association hasn't done anything. They should have been preparing the athletes for the Olympics but for the past so many years they have not done anything, so we have got involved," Subramaniam told the Daily FT. 

"There is an athletic meet in Kazakhstan where we are trying to get this high jumper who is in the USA – Ushan Thiwanka – to go there and qualify. He is only .03 metres short of gaining Olympic qualification. He has got to 7.3m so if he gets to 7.33m he is automatically qualified. Likewise, we have our 800m and 1500m athletes also participating, but I am not sure whether they will qualify."  

"These athletes should have qualified from the beginning of the year. There are qualifying rounds taking place all over the world. The association has waited until the last minute and they haven't done anything; that is why we are rushing here. We have got involved because the athletes are getting stranded. We want the high jumper who is training in the USA to qualify," continued Subramaniam.

"Athletics is the only sport the Sports Ministry has been funding for the last 10 years, and they haven't won a single medal. I am not talking about the SAF Games, it is useless. I am sure the Ministry is also disappointed, the way they are running athletics," he said.
Wild card entry for swimmers
Subramaniam said that two swimmers – male swimmer Matthew Abeysinghe and female swimmer Aniqah Gaffoor – have joined the four who have already qualified for the Tokyo Olympics.

"Last time Matthew qualified, but this time he could not qualify because of the COVID-19 pandemic. What they did was, they closed the pools and they said only the American swimmers can train. So, it became a huge problem for Matthew as he is in the USA on a training schedule," said Subramaniam.

"Subsequently, they allowed him to train in the university pool. He was training on his own. He couldn't train with others because the pool was isolated completely. We finally made an appeal to the IOC and told them that he was in the Olympic Solidarity program and when a thing like this happens, where do we stand? 

"Previously, Matthew had an Olympic qualifying time; because of that, they gave him a wild card entry. It is the same story with Aniqah, she also had a qualifying time, and she is training in Thailand.  They will join the rest of the Sri Lankan contingent in Tokyo," he said.

Subramaniam said that in his opinion, he expects only two other sports to qualify for the Olympics – Archery and Judo.

"At the moment, we have two swimmers, and one each in archery, equestrian, gymnastics, and badminton, a total of six. We are quite confident we will get one in judo and in archery. There is a girl called Liaquat and if the archery boy qualifies on his own merit, then we will be able to use a wild card for her. The archery competition is taking place this weekend in Switzerland and France. We will know by Monday or Tuesday whether they have qualified."
Judoka's sad episode
Subramaniam related a sad episode associated with the Judoka Chamara Dharmawardana from Gampola.

"If this judo guy had gone for qualifying about a week ago, he would have qualified because he was one of the best. Unfortunately, the qualifying round was taking place in Hungary. As we don't have an embassy here, his passport was sent to Delhi two months ago," said Subramaniam. 

"Delhi went on lockdown and there was nobody to stamp the passport. Finally, when it was stamped and when it was to be delivered that night, at the last minute they cancelled the SriLankan Airlines flight that was coming from Delhi to Colombo, so the courier package did not arrive. It came the following day and this guy going to Hungary was useless because they had fixed the weighing time for all participants for one day. All the competitors are weighed at one particular time across the border. Once the time was passed, there was no question of this boy going."

"We have given all this scenario to the IOC and requested a wild card for this boy. They are looking at it favourably. Last year, this boy participated in Brazil and went to the 4th round and lost. This weekend we are sending him to Kosova for a five-week training, but he has a very good chance of getting a wildcard," Subramaniam said.

Of Sri Lanka's contingent of 15, a large slice has been taken by the equestrian, where you need a minimum of four people to support the athlete and the horse (Groom, Horse Owner, Veterinarian and Coach/Team Leader), while there will be one coach for each sport.

In the case of shuttler Niluka Karunaratne, Subramaniam said that he had requested for a sparring partner and not a coach to accompany him. 

"Because of this Olympic bubble, whether other teams will come and practice with him we don't know. So, we have accommodated a sparring partner for him."

Karunaratne became the fourth Sri Lankan to make the Tokyo 2020 Olympics by name, joining Equestrian Mathilda Karlsson, Gymnast Milka Gehani and Shooter Tehani Egodawela.

The contingent from Sri Lanka is expected to leave for Tokyo by 16 or 17 June. 

"The rule is only five days prior to the event that any country can come, and they will go straight to the village. Everybody can arrive in Tokyo only five days before the start of the Olympics on 23 June," said Subramaniam.

"The officials who are going are all the coaches, doctors, physios, and trainers. No NOC officials. The only NOC officials going are 'Maxi' (NOC General Secretary Maxwell de Silva) and I. We are going at our cost, nothing to do with the Ministry or anybody. The VIP guests are the President of Sri Lanka, the Prime Minister and the Minister of Youth and Sports, the IOC has confirmed," Subramaniam said.

A media release from the NOC states that the total budget is Rs. 22 million. The NOC Sri Lanka contributes Rs. 9.2 million, or 41.4% of the budget, with the Ministry contributing the remaining 58.7%, of which 43% of the costs are related to COVID-19 expenses, airfare and accommodation costs for six journalists, VVIP Accommodation, totalling Rs. 5.7 million. There is also provision for horse transportation totalling Rs. 1 million and another Rs. 400,000 for shooting ammunition transport, among other things. This is the total commitment for Tokyo 2020.

The chef-de-mission of the team will be NOC Sri Lanka Treasurer Gamini Jayasinghe.