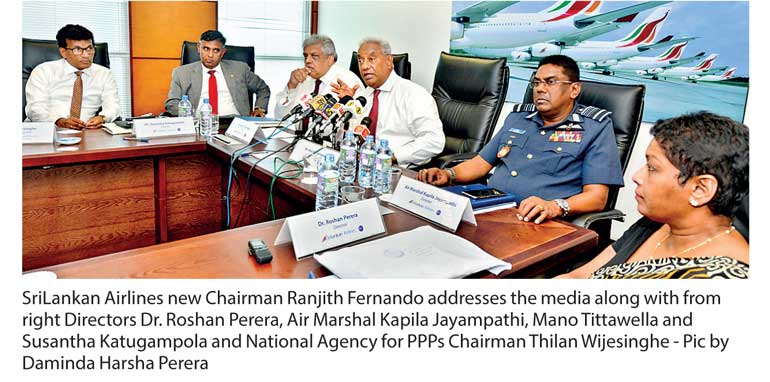 Says reviving national carrier to profitability is difficult and challenging but achievable within 3 years
Insists no more Treasury handouts though airline has tremendous potential
Restructuring plan by aviation specialist Britain's Nyras to be extensively studied and modified if necessary and approved by Board before seeking Cabinet nod
Loss in FY18 tops $ 100 m; saddled with $ 750 m liabilities owing to aircraft purchases and leases at exorbitant and above-market prices by previous Rajapaksa regime
Renegotiation of 4 A350s to be pursued
Board of Directors won't draw a salary until airline is profitable
Review of senior management, salaries and overstaffing issue underway
By Nisthar Cassim

The new Board of Directors of SriLankan Airlines yesterday declared that making the national carrier profitable was a "difficult and challenging task but achievable."

The national airline is estimated to have suffered a $ 105 million loss (over Rs. 16 billion) in the just-concluded financial year ending 31 March 2018 and is saddled with $ 750 million in liabilities. The forecast loss for FY2019 is around $ 130-$ 160 million. However FY18 loss appears significantly lower compared with near Rs. 30 billion loss in the previous FY17.

Nevertheless managing this double whammy of losses and liabilities is what the new Board is focused on with the help of a restructuring plan submitted with multiple options by aviation specialist firm Nyras of the United Kingdom.

"Our prime focus is to restructure the national carrier and make it profitable within three years," SriLankan Airlines Chairman Ranjith Fernando, a veteran ex-banker, along with rest of the Board members told the media yesterday. "This is a big challenge and we are ready for it and will need support from all stakeholders," he emphasised.

"The airline has tremendous potential. However, days of the Treasury doling out money or handouts and good money going behind bad are over. Making SriLankan Airlines profitable is a difficult task but achievable," reiterated Director Mano Tittawella, who is also Senior Advisor to the Finance Ministry.
Fernando, Tittawella and other co-directors SusanthaKatugampala, a successful entrepreneur based in Australia, Air Marshal KapilaJayampathi and Central Bank Additional Director Dr. Roshan Perera, akin to walking the talk, have decided not to draw a salary until the airline is made profitable.

Fernando, whose banking experience was largely with the National Development Bank and was formerly Secretary to Ministry of Industries and more recently Chairman of Urban Development Authority, said the Board was experienced in management and good governance, and would rely on the senior management to run the airline.

"The Board will give leadership to the restructuring and play a supervisory and oversight role. We will demand desirable performance and where necessary make changes in senior management to make it more competent," he added.

The new Board said the airline was loss-making due to a multitude of reasons but primarily led by debt servicing, aircraft purchases, leasing at exorbitant or above market prices under the previous Mahinda Rajapaksa regime, wrong aircraft and overstaffing.

At the media briefing which included National Agency for Public Private Partnerships Chairman Thilan Wijesinghe, the Board will renegotiate some of the orders and lease agreements to reduce the burden on the national carrier.

The Board members said that in reviving the national carrier, options such as a strategic partner with infusion of capital or business benefits will be explored. The Restructuring Plan developed by Nyras will be extensively studied by the Board and internally with the senior management before being recommended to the Cabinet Ministerial Committee headed by Prime Minister Ranil Wickremesinghe for approval.

The Board hopes to activate the best options within the restructuring plan within the next two months.

In terms of dealing with the overstaffing situation by about 1,600-2,000, the Board will speak with trade unions to find an amicable resolution. Where necessary the salaries of senior management will be revised downwards, they added.