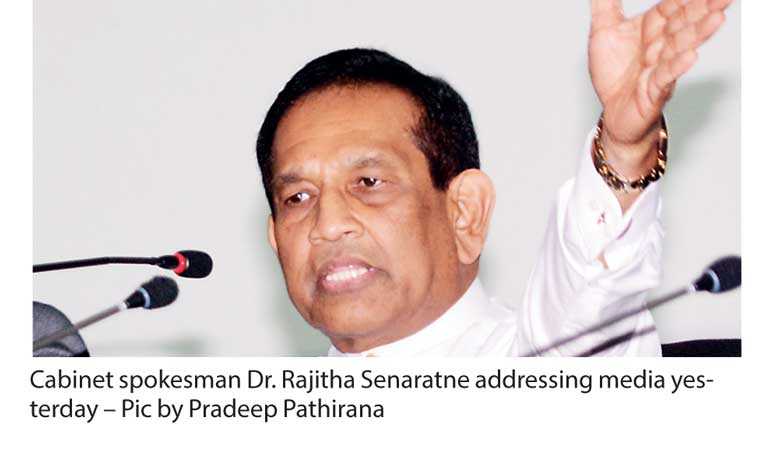 Cabinet Ministers to be sworn in before New Year
Unity Government to continue despite removal of SLFP ministers who voted for No-Confidence Motion
Secretaries to President and Prime Minister to nominate new Cabinet according to scientific method
By Skandha Gunasekara

A new Cabinet of Ministers is to be appointed this week with the inclusion of the Sri Lanka Freedom Party (SLFP), continuing the term of the Unity Government, a Cabinet spokesman said yesterday (11 April).

Co-Cabinet spokesman and Health and Indigenous Medicine Minister Dr. Rajitha Senaratne, addressing the weekly post-Cabinet press briefing, said that it has been decided that the six SLFP Ministers who voted in favour of the No-Confidence Motion against Prime Minister Ranil Wickremesinghe would be removed from the Cabinet.

"It will not be a Cabinet reshuffle but an appointment of a whole new Cabinet. Some will receive the same Ministries while others may change," he said, adding that the six SLFPers who are to leave the Cabinet will be replaced by six other SLFPers.

He went on to say that President Maithripala Sirisena had requested that the new Cabinet be appointed by 14 April (Saturday), before the Sinhala and Tamil New Year.The Minister went on to note that the new Cabinet members are to be selected by the Secretaries of the President and the Prime Minister, according to a scientific methodology, indicative of similar subject Ministries being amalgamated or given to the same individual.

He added that there will be no change in the number of members in the Cabinet and that the number would be maintained at 45.

16 SLFP MPs voted in favour of the No-Confidence Motion against the Prime Minister in Parliament last week, including six Cabinet Ministers.

Subsequent to the No-Confidence Motion being defeated in Parliament, a group of UNP back-benchers called for the removal of the six SLFP Ministers who voted for the No-Confidence motion from the Cabinet of Ministers.

Accordingly, SLFP Ministers SB Dissanayake, Dayasiri Jayasekera, Susil Premajayantha, Anura Priyadarshana Yapa, Chandima Weerakkody and W. D. J. Seneviratne are to be removed from the Cabinet of Ministers.