Plantation Industries Minister Navin Dissa-nayake has reassured to provide an equitable and a long-term solution to the ongoing estate worker strike.

"We are now discussing with both trade unions and the Employers Federation of Ceylon (EFC). There needs to be a long-term sustainable strategy to this issue. Collectively, we hope to reach an equitable solution very soon," the Minister told journalists on Tuesday.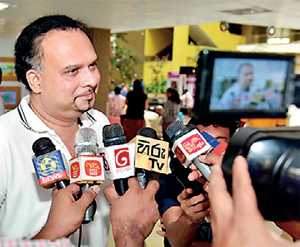 Plantation Industries Minister Navin Dissanayake
Acknowledging that this issue is very subtle as more than one million people are depending on this industry, he said it was important to consider the concerns of worker and employer with a long term equitable solution.

"We need to reflect on both sides. On one hand it is important to consider from the humane side in providing them with Rs. 1,000 daily wage, but on the other hand we need to think how economically viable that decision is for the 22 plantation companies providing over 500,000 employment. While there is a humane aspect to this matter, we also need to evaluate how these companies would operate in a sustainable manner in the longer run," the Minister stressed.

The Collective Agreement discussions dragged for over three months with no breakthrough and the worker strike has been ongoing for almost a month with the industry's losses topping over Rs. 2 billion.