Offer of 107 m shares at Rs. 75 each comes hot on the heels of raising Rs. 7.3 b via a 5-year listed debenture issue in Sept.
Loan book in 1H expanded by 5% to Rs. 429 b; had disbursed
Rs. 16.5 b as concessionary working capital for COVID-hit customers under CB initiative Saubhagya scheme as at early Oct.
---
NDB Bank has announced plans to raise Rs. 8 billion via a Rights Issue to enhance capital and part finance business growth.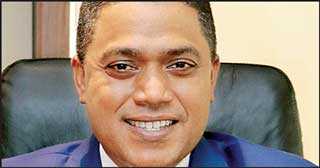 Chairman Eshana De Silva
---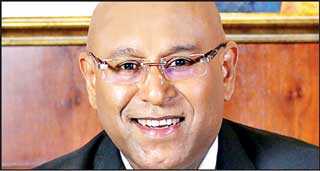 GCEO Dimantha Seneviratne
---
The bank has resolved to issue 106.78 million shares on the basis of 28 new shares for 61 held at Rs. 75 each.

NDB share price closed unchanged yesterday at Rs. 83.40. Its net asset value per share as at 30 June was Rs. 184.25, up from Rs. 178 as at 31 December 2019.

The current stated capital is Rs. 8.79 billion represented by 232.63 million shares.

NDB Bank has 9,922 public shareholders or 91%. Among the biggest shareholders of NDB Bank are EPF (10%), BOC (8%), Sri Lanka Insurance (11%), Dr. Sena Yaddehige (4%), Softlogic Life Insurance (4%), and ETF (4%).

NDB to...

The purpose for which the proceeds of the Rights Issue are to be utilised are to further strengthen the equity base of the bank thereby improve capital adequacy ratios in line with BASEL III guidelines of the Central Bank and to part finance the growth in the loan portfolio of the bank.

The bank's Tier I and total capital ratios as at 30 June were 9.30% and 12.94% whilst the same at the Group level were 10.09% and 13.57% [minimum requirements of 8.0% and 12.0% respectively.

In September NDB raised Rs. 7.3 billion via the issuance of Basel III compliant – Tier II, listed, rated, unsecured, subordinated redeemable five-year debentures of Rs. 100 each, with a non-viability conversion feature.

Funds raised were to further strengthen the Tier II capital base of the bank and support envisaged business growth.

In the first half the bank reported healthy balance sheet expansion of 6% to Rs. 562 billion. The loan book expanded by 5% to Rs. 429 billion and customer deposits rose by 6% to Rs. 428 billion.

Early this month NDB said it has disbursed over Rs. 16.5 billion worth of funds under the 'COVID-19 Saubhagya Loan Scheme' in a continuing demonstration of its commitment in supporting the economic recovery. The bank has thus provided over 11% of the allocated Rs. 150 billion by the Central Bank of Sri Lanka (CBSL).

In the first half of 2020, NDB Bank saw pre-tax profitability static at Rs. 5 billion whilst post-tax profitability was up by 34% to Rs. 3 billion.

The proposed Rights Issue is subject to approval of the CSE and shareholders.

NDB's last Rights Issue was in October 2018 amounting to Rs. 6.2 billion on the basis of 1 for 3 at Rs. 105 each but raised only Rs. 3.5 billion, due to restrictions placed by the Banking Act on allotment of shares on certain shareholders.