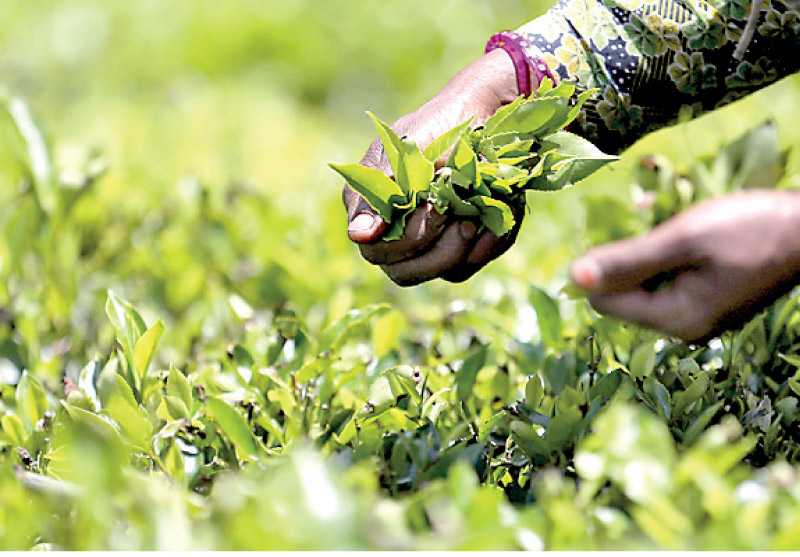 ---
Tea exports down 11% volume wise in first eight months of 2020; value lower 8% to Rs. 149.4 b
---
By Charumini de Silva
---
The much-awaited Ceylon Tea promotion will kick off this winter, with a total investment of Rs. 5 billion aimed at boosting exports which have struggled in recent months, an official confirmed.

Sri Lanka Tea Board (SLTB) Director Promotion Pavithri Peiris told Daily FT the promotions would be conducted three ways, targeting Key Opinion Leaders (KOLs), public relations and search engine optimisation in countries such as Russia, Ukraine, Japan, China, United Arab Emirates, Germany, the US, Chile, Saudi Arabia, Turkey and Iran.

The promotions will span for one year in each market.

"Due to the COVID-19 pandemic, we had to confine our promotions to digital platforms methods to reach out to the markets," Peiris said.

She also said that SLTB was planning to roll out the Russian and Ukrainian marketing blitz by December upon receiving Cabinet approval. "We have now shortlisted the agencies for the promotions via an international bid and it has been finalised," she added.

SLTB has allocated Rs. 800 million for the initial exercise for which 45 KOLs have been selected in Russia and 15 KOLs in the Ukrainian.

Peiris said after six months SLTB would evaluate the progress and if the COVID pandemic was under control, they would also try the offline methods such as sampling at supermarkets and malls.

In June, the Government suspended the Rs. 3.50 Cess charged on each kilo of exported tea for a period of six months, to support the tea industry recover from the COVID-19 pandemic.

According to Central Bank, tea exports in the first seven months of 2020 amounted to $ 702.6 million down by 12% from a year earlier.

According to Forbes and Walker Tea Brokers, tea exports in August 2020 based on preliminary data totalled 22.01 M/kgs, recording a deficit of 4.19 M/kgs vis-à-vis 26.20 M/kgs of 2019.Total revenue of Rs. 19.03 billion for August 2020 too shows a decrease of Rs. 2.10 billion vis-à-vis Rs. 21.1 B of August 2019. However, the total FOB value of Rs. 864.99 per kilo ($ 4.71) shows a gain of Rs. 58.59 vis-à-vis Rs. 806.40 ($ 4.54) of August 2019.

The January-August 2020 cumulative exports totalled 174.1 M/kgs recording a decrease of 11% or 22.1 M/kgs vis-à-vis 196.2 M/kgs of January-August 2019.

Total revenue of Rs. 149.4 billion too shows a deficit of Rs. 13.1 billion vis-à-vis Rs. 162.5 billion of 2019. January-August 2020 FOB value of Rs. 858.25 per kilo ($ 4.67) shows a gain of Rs. 29.87 vis-à-vis Rs. 828.38 ($ 4.68) of January-August 2019.

National average for the month of August 2020 totalled Rs. 618.32 ($ 3.37) vis-à-vis Rs. 611.25 of July 2020, showing a marginal increase of Rs. 07.07 month on month. However, in comparison to the August 2019 average of Rs. 506.89 ($ 2.86), shows a significant increase of Rs. 111.43 ($ 0.51) YOY. In the first eight months of 2020 the cumulative national average of Rs. 622.67 ($ 3.39), an increase of Rs. 77.33 ($ 0.31) is recorded vis-à-vis Rs. 545.34 ($ 3.08) of January-August 2019.

Tea exports in 2019 amounted to Rs. 240.6 billion, up from Rs. 231.7 billion in the previous year. Due to the sharp depreciation of the Sri Lankan Rupee against the US Dollar, the revenue in dollar terms was lower in 2019 at $ 1.35 billion. The FOB price per kilo too followed a similar pattern, increasing in rupee terms from Rs. 820.75 to Rs. 822.25 YoY but declining from $ 5.05 to $ 4.60.

Sri Lanka's tea export volume in 2019 amounted to 292.66 million kg vis-à-vis 282.36 million kg recorded in 2018. The FOB average price per kilo in 2019 was Rs. 822.25 per kilo in contrast to Rs. 820.75 per kilo in 2018.