Prasanna Ranatunga charges Rs. 37 m impairment from construction company belonging to former UNP Minister, orders to blacklist firm


By Charumini de Silva

Aviation Services Minister Prasanna Ranatunga has directed the officials to call for fresh tenders to complete modernisation work connected to the third phase of Bandaranaike International Airport in Katunayake within the next six months.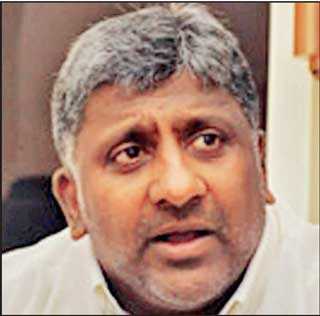 Aviation Services Minister Prasanna Ranatunga


The move follows the Minister making an inspection visit, and finding long delays and unsatisfactory work thus far.

He observed that the expansion work of the BIA has not been concluded, despite the contract had been awarded in 2017 with a nine month deadline. "During my visit to the airport last week, I did a thorough inspection of the condition of the airport and found out that the construction work of the third phase of the expansion was done below standard, and had only completed 45% of the work. We will remove this contractor and call for new tenders to complete at least the interior projects within the next six months," Ranatunga told the Daily FT.

Claiming that the construction company belongs to a United National Party (UNP) Member of the Parliament, he said they were still dragging the project without sufficient workers.

Ranatunga, who is also the Tourism, Industrial Export and Investment Promotion Minister, said that they have found out that the elevators at the building were not up to standard, and as an impairment they have decided to charge a sum of Rs. 37 million from the company.

Accordingly, the contract was awarded on 24 January 2017 and the total cost of the work was estimated to be Rs. 374 million. Originally, the contractor had agreed to complete the work within nine months. However due to the delay in completing the project within the given time frame, the airport authorities had requested several times from the construction company to expedite the work. However as the contractor was associated with powerful political figures of the former regime, they have neglected the request by airport officials.

"I have ordered the authorities to blacklist the construction company belonging to the former UNP Minister for delaying the work," the Minister stressed.

Officials of the company awarded the contract were not available for comment.