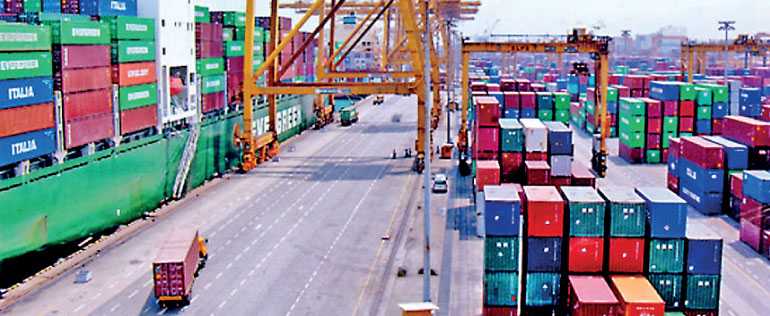 Apparel exports fall sharply by 82% to $ 64.91 m, tea by 21% to $ 78.37 m
Rubber falls by 53% to $ 55.37 m, coconut exports 35.2% to $ 27.88 m, seafood by 72% to $ 6.26 m
Export earnings from January to April fell by 26% to $ 2.9 b compared to $ 3.9 billion
EDB Chief assures to find solutions for ongoing issues of exporters, find new markets, products created by COVID-19
---
By Charumini de Silva
---
Sri Lanka's merchandise exports have fallen by 65% to $ 277.4 million in April, a historical decrease largely caused by the impact of shutting down factories due to the COVID-19 pandemic.

As per latest provisional data from the Export Development Board (EDB), April marked the steepest fall in merchandise exports by 64.91% to $ 277.4 million compared to $ 772.57 million from a year earlier.

In view of the serious impact from COVID-19, the EDB lowered its export earnings forecast for 2020 to $ 10.75 billion a decline of 42% from earlier projection.

"It is understood that we are witnessing a decline in exports during April, which is mainly caused by the shutdown of many operations due to the prevailing COVID-19 crisis and also to the fact that the Sri Lankan Government is taking strict measures in controlling the situation," EDB Chairman Prabhash Subasinghe said.

In April, apparel exports fell sharply by 82% to $ 64.91 million compared to $ 356.20 million from a year earlier. Tea exports fell by 21% to $ 78.37 million compared to $ 98.97 million. Rubber products exports fell by 53% to $ 55.37 million compared to $ 25.77 million, while coconut products exports fell by 35.2% to $ 27.88 million compared to $ 43.18 million from the corresponding period of last year. Seafood exports fell by 72.37% to $ 6.26 million compared to $ 22.66 million from a year earlier. A significant decline was also evident in exports including food and beverages by 44%, spices 24%, electronics and electronic components 63%, petroleum products 63% and base metal products 49%.
However, analysis at disaggregate level on vegetable planting materials and vegetable products, tamarind, arecanuts, ginger, oleoresins, onions, instant tea, coconut husk chips, essential oils, coconut shell charcoal, kiri ala, green gram, melons and papayas, other natural rubber, gherkins, organic chemicals has shown a positive growth during April compared to the same period last year.

Sri Lanka's export earnings fell by 26% in the first four months to $ 2,853 million compared to $ 3,884.28 million recorded in the corresponding period of last year. The EDB estimates services exports including ICT/BPM, construction, financial services, logistics and wellness tourism will overall amount $ 1,030 million compared to $ 1,381 million a year earlier.

Furthermore, he pointed out that the overall results from January to April also reflects a decline in global demand of goods due to the global economic impact caused by the prevailing pandemic situation in the world.

"The EDB is taking continuous measures and working closely with the exporters to resolve their ongoing issues as well as finding new markets and new products to meet the current market needs created by COVID-19," Subasinghe stressed.