By Chathuri Dissanayake

As Sri Lanka faces increased rainfall on account of climate change, the Government yesterday launched a new flood mitigation project costing $ 322 million.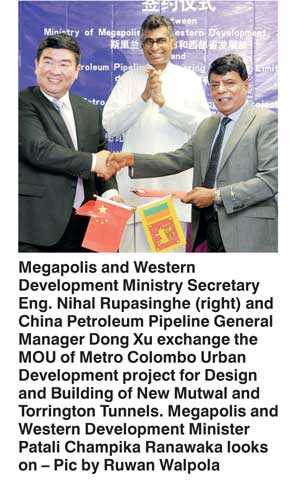 The Megapolis and Western Development Ministry signed an agreement yesterday with the China Petroleum Cooperation project to construct two tunnels to channel floodwater out of Colombo.

Pointing out that the current flood mitigation system is over 150 years old, Minister Patali Champika Ranawaka said the new project will help the country to cope with a rainfall of up to 529mm anticipated once every 50 years.

"Developing the Kelani River bank is the need of the hour. The rain patterns have changed very rapidly over a few years' time, and now rainfall has doubled.

In the year 2000, a study done revealed that Colombo receives a heavy rainfall of about 147mm every two years - it has now increased to 280mm," he said, explaining the need to develop the tunnel network.

The two tunnels set to be constructed will be completed by 2020, the Minister said. The tunnel running through Bauddhaloka Mawatha will channel flood water from the Thummulla area, which goes under flood frequently, to the sea through Bambalapitiya. The second tunnel will be constructed through Nawamuthuwella.

The project will be funded partly by the World Bank with a soft loan amounting to $214 million, while the Government will fund to the tune of $108 million.

However, the Minister said that a proper multipurpose project should be designed for Kelani River to mitigate the flood threat to Colombo city.

"We need a proper multipurpose project to address the flood threat, to channel water from the Kelani River to the dry zone areas and to deal with the drinking water problem in Colombo," he stressed.