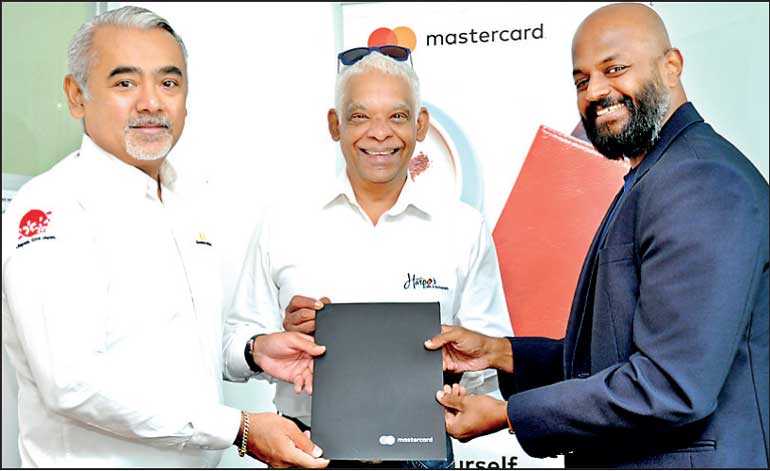 Mastercard Country Manager Sri Lanka and Maldives Rajesh Mani (right) exchanges the Strategic Partnership commitment with Colombo City Restaurants Collective President Harpo Goonaratne and Vice President Darshan Munidasa – Pic by Lasantha Kumara
---
Joint initiative by Colombo City Restaurants Collective and Daily FT on 24 March to focus on 'Beyond Discounts, What's Next' with panel of experts among key stakeholders
---
Mastercard, a global technology company in the payments industry has come forward to support the first ever Thought Leadership Forum on the restaurants and credit card/banking industry scheduled for Wednesday 24 March, at The Stables, Park Street Mews.

Titled 'Beyond Discounts, What's Next', the forum will feature several experts sharing key insights on how best the two industries can add more value to each other as well as customers.
Mastercard's mission is to connect and power an inclusive, digital economy that benefits everyone, everywhere by making transactions safe, simple, smart and accessible. Given its commitment to foster financial inclusion and accelerate digital payments in Sri Lanka, Mastercard will be the strategic partner of the forum organised by the Colombo City Restaurants Collective (CCRC) and the Daily FT.

Representatives of Commercial Bank, Sampath Bank, HSBC and Nations Trust Bank, along with prominent leaders of the city restaurants industry will figure in an interactive panel.

This is an invitee-only limited-participation forum, whilst non-members of CCRC and others can express requests for participation via email to adminzarina.ccrc@gmail.com or editor@ft.lk for consideration on a first come first serve basis.

Key areas of discussion will include: The underlying impact of bank discounts – short term vs long term; new ways in which banks can add value to the industry, that can have a positive ROI for both banks and restaurants in the long run; benefits to restaurateurs in collaborating with banks and vice versa; and different communication channels and strategies to better engage with target customer bases.