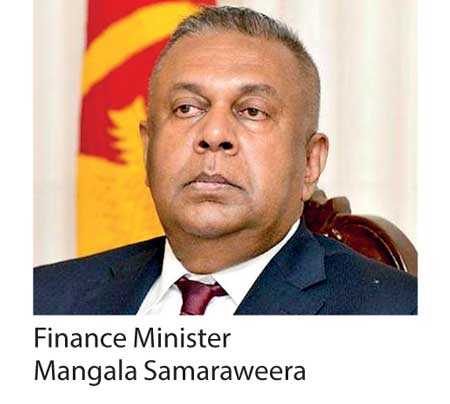 By Ashwin Hemmathagama

The Government said that it has thus far been successful in curbing excess import growth and controlling the depreciation of the Sri Lankan rupee, which had started to hit record lows during the last few days.

According to Finance and Mass MediaMinister Mangala Samaraweera, Sri Lanka has been less affected than many other countries with economies of different sizes and stability.

"Between 1 January and 18 September 2018, the Sri Lankan rupee has depreciated by approximately 7.4%. During the same period the Indian rupee has depreciated by 13.5%, the Pakistanrupee by 12.1%, the Indonesian rupiah by 9.5%, the Russian ruble by 18.2% and the Brazilian real by 24.8%. We are expecting further depreciations in the coming weeks.

There are countries worse than these. In Turkey the lira depreciation is 68% and in Argentina the depreciation is 112%. But I think the wrong economic decisions of the past have led these two countries toward this devastation," he said.

The Minister, revealing his contingency plan to respond to the Sri Lankan rupee depreciation which is expected to go forward during the coming weeks, said: "What should our policy be in response? It is imperative that we build up the safeguards and resilience to be able to meet up with such volatility while further consolidating macroeconomic stability to provide confidence to global capital markets. Towards this end the Government has taken appropriate steps to build safeguards. Throughout 2017 the Central Bank made a conscious effort to build up foreign exchange reserves purchased from the market instead of the old practice of borrowed reserves. Accordingly, the reserves reached a record level of $9.9 billion. Today this has come down to $ 8.2 billion, having had to do some debt servicing by the end of August 2018.

"In recent months there has been much talk about the depreciation of the Sri Lankan rupee. I would like to shed some light on the exchange policy of ours. Some try to identify the depreciation of the Sri Lankan rupee as the fall of the economy. If that were the case Vietnam, where one US dollar can buy 33,300 dong, should be in the doldrums. But in 2017, Vietnam attracted $ 36 billion worth of foreign investment while exports reached $ 250 billion. Indonesia, where their rupiah is still depreciating at a much faster and higher rate than Sri Lanka, one US dollar buys 15,000 rupiah. According to our economic pundits, Indonesia should also be a basket case. But as we know, in 2017 Indonesia's GDP reached $ 1 trillion and real GDP growth stood at 5%," he added.

Currently, the value of the rupee is determined by the foreign exchange market. The primary determinants for currency are the exports and imports of goods and services and the net capital flows to any country. According to the Minister, in Sri Lanka these basic indicators are positive and the country was moving in the correct direction.

"We saw that our growth rate has gone up from 3.1% to 3.7% during the second quarter last year. Exports have reached $11.3 billion. With everything else taken into consideration we have exceeded $15 billion in exports last year. Import growth was seen with motor vehicles and small-sized cars, which were under-priced in local markets. The Government took action to control this situation. From the last Budget we took a decision to tax based on the engine capacity of the vehicles. This helped to stop corruption with vehicle imports but we saw a vehicle tsunami heading this way,especially small cars with a capacityless than 1,000cc. During 1Q 2018, we have imported over 25,000 small cars. So it had to be taxed to stop the flow of our foreign reserves. But still these vehicles are priced less than what they were during the previous regime," said Minister Samaraweera.

On Wednesday, the Central Bank imposed a 100% cash margin on the requirement for a Letter of Credit on non-commercial motor vehicles with immediate effect.

"We have taken action to reduce foreign currency outflow. In India they are facing this depreciation worse than us. They have imposed this cash margin also for non-essential luxury items. As the country develops and integrates with the global economy there is greater exposure to global capital markets. Sri Lanka has seen an increase in foreign investment in the stock market and government securities in recent years. However, such investments are volatile in nature and are determined more by global factors rather than local issues. The normalisation of US monetary policy has been a major factor affecting global financial markets," he explained.

According to Minister Samaraweera, it is important to understand recent history.

"After the financial crisis of 2008, US interest rates dropped to record lows where the investor capital left the US in search of higher returns in high-risk frontier markets. However, with the recovery of the US economy the Federal Reserve has been increasing US interest rates which has caused global investments to uplift capital from emerging markets like Sri Lanka and return to the US. Naturally this has caused capital movement out of many emerging economies, putting pressure on their balance of payment and causing currency depreciation. Sri Lanka too has experienced foreign investments in government securities moving out and foreign capital leaving the equity market. Similar trends were seen in all emerging and frontier market economies," he said.