Challenges MR to find how it will impact sovereignty and territorial integrity of SL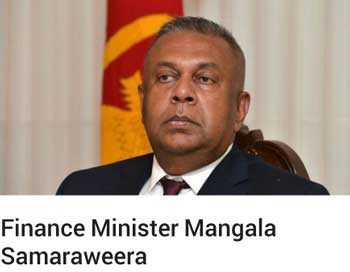 Finance Minister Mangala Samaraweera yesterday released the full draft of the Millennium Challenge Corporation (MCC) agreement regarding a $480 million grant to Sri Lanka and called on Opposition Leader Mahinda Rajapaksa to find how it will be negative to the sovereignty of Sri Lanka.

Releasing a statement, Minister Samaraweera strongly criticised detractors of the agreement, charging that it was being used as "political fodder by pseudo-patriots to attempt winning at the Presidential Polls". 

He also faulted the Opposition, which has been heavily critical of the MCC pact, as spreading fake news to create the impression that the MCC is detrimental to Sri Lanka. 

"For months the Opposition has taken great pains to paint the MCC agreement in a negative light, even though it is a project that could provide great benefits to Sri Lanka," he said in the statement. 

Samaraweera went on to defend the benefits of the agreement and reiterated that the projects were picked by local officials and relevant line Ministries, and that the pact would be presented to Parliament after it is signed. He also emphasised that Sri Lankans stood to benefit from the transport and land projects outlined in the MCC agreement. 

Concluding his statement, Samaraweera said that he was releasing a copy of the 84-page agreement so that Opposition Leader Rajapaksa could peruse it, and if possible, find reasons as to how it could be as detrimental as publicised by him.