The Government yesterday confirmed it expects to finalise the free trade agreement (FTA) with Singapore by the end of next month and outlined the benefits of investing in export-driven trade and services in Sri Lanka.
"We have completed five rounds of negotiations with Singapore and we hope to finalise the agreement by the end of October," Development Strategies and International Trade Minister Malik Samarawickrama said at the annual SAARC Trade Fair and Investment Forum held in Colombo.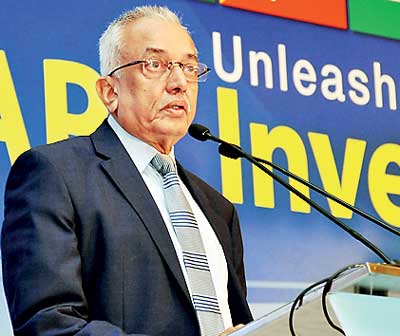 In addition to typical goods chapters, he said they had also included Investment and Services chapters comprising Government procurement, financial service, telecom and ecommerce. "For Singapore, we are particularly focused on encouraging Singaporean investment into Sri Lanka and new concepts such as re-manufacturing industries."

Samarawickrama also said that the fifth round of negotiations with India on the Economic and Technology Cooperation Agreement (ETCA) was conducted in Colombo two weeks ago.

"ETCA can increase Sri Lanka's competitiveness in industrial exports and also increase our supply capacity to better utilise market access to India. ETCA envisages the relaxing of apparel and pepper quotas. Also it is addressing outstanding non-tariff barriers in the Indian market as well as many of the existing procedural barriers and delays in Indian ports of entry through mutual recognition agreements. This will particularly benefit exporters of perishable items such as fruits, vegetables and fish," he explained.

Noting that China was currently the largest single source of foreign direct investments (FDIs) to the country, he stressed the Government wished to include a priority tariff line for competitive Sri Lankan products that would come into immediate effect upon the signing of the agreement.

The proposed China FTA is focused on apparel, tea, gems and jewellery, rubber products, coconuts and spices as key industries.

He said together the Chinese FTA and Indian ETCA will give Sri Lanka preferential access to a market of 2.5 billion people and an emerging middle class larger than the whole of the European Union.

"The Government of Sri Lanka is aware of the possible trade disruptions that can occur during the transition period and therefore we are looking at providing a trade adjustment package for local industrialists to upgrade machinery and introduce new technology so that these industries can be more competitive and serve the local market as well as export to the regional and global markets," he added.

Furthermore, the Minister said the National Export Strategy (NES) is due to be launched for implementation this month.

Encouraging more South Asian tourism with excellent air links through Sri Lanka's national carrier, he acknowledged that there were considerable investment opportunities in this sector.