Extends open invitation to join and strengthen Government for rapid development putting country first
Reiterates coalition is way forward for Sri Lanka
Admits political uncertainty between LG elections and No-Confidence Motion and racial riots stalled country's progression
Reveals meeting with Prime Minister focused on shortcomings but resolved to work together with new Cabinet to accelerate development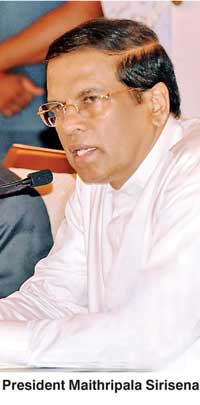 By Nisthar Cassim

Hot on the heels of the defeat of the No-Confidence Motion against the Premier, President Maithripala Sirisena yesterday invited all Members of Parliament to extend their support to strengthen the Government to usher rapid development in the interest of the country and people.

"As the President, it is my responsibility to strengthen the Government in the best interest of the country and the people and not weaken it.I am well aware of the future challenges. Whoever (MPs) is keen to support this cause I extend an open invitation to join the Government and help in the development of the country," Sirisena told the breakfast meeting with editors and media heads.

He opined that coalitions were the only way forward for Sri Lanka as no single party would be able to secure an absolute majority.

Briefing about his meeting with Prime Minister Ranil Wickremesinghe on Thursday, Sirisena said some of the shortcomings of the administration and the way forward for the Government were discussed. Another was setting up a joint committee by SLFP and UNP to strategise priority areas for united effort. A reconstitution of the Cabinet, especially aligning subjectsproperly, was also discussed.

"We will approach this scientifically and rationally," the President clarified, adding that for example at present three sugar companies were vested with differentministries.

Sirisena admitted that political uncertainty due to the outcome of the 10 February Local Government elections followed by racial riots in Kandy District and the run up to the No-Confidence Motion had impacted a more progressive approach to development work and decision-making by the Government and the public sector.

"Now that these developments are behind us, the Government has a stronger resolve to accelerate the program of development after the Sinhala-Tamil New Year," the President said, adding that despite the earlier political uncertainty the State didn't grind to a halt but work was undertaken.