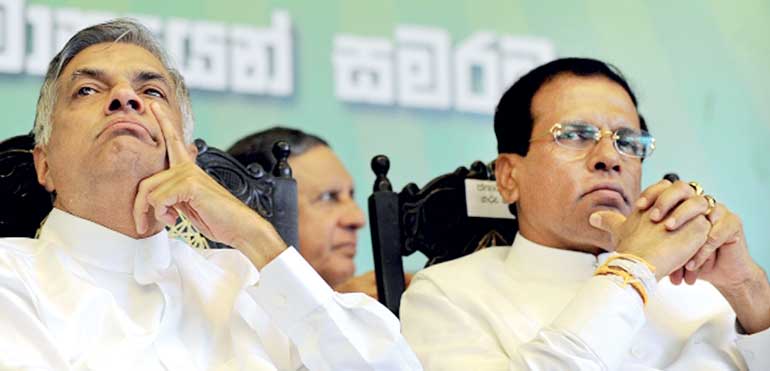 The Coalition Government partners of the Sri Lanka Freedom Party (SLFP) and the United National Party (UNP) yesterday scrambled to find a way forward for the Yahapalanaya union, holding marathon meetings with different stakeholders.
President Maithripala Sirisena and Prime Minister Ranil Wickremesinghe had crucial talks to find common ground to take the Coalition Government forward amidst calls by the Joint Opposition, which emerged as the unlikely champion of the Local Government elections, for it to be dissolved. Crucial meetings within both parties are scheduled today to carve out a resolution.

The meeting, which lasted close to two hours, ended without a conclusion though both parties were vying to form their own government, leaving their coalition partner behind. However, the possibility of the Coalition Government continuing has not been completely tossed out either, sources said.

Immediately after the meeting with the President, the top ranks of the UNP reconvened at Temple Trees for follow-up discussions.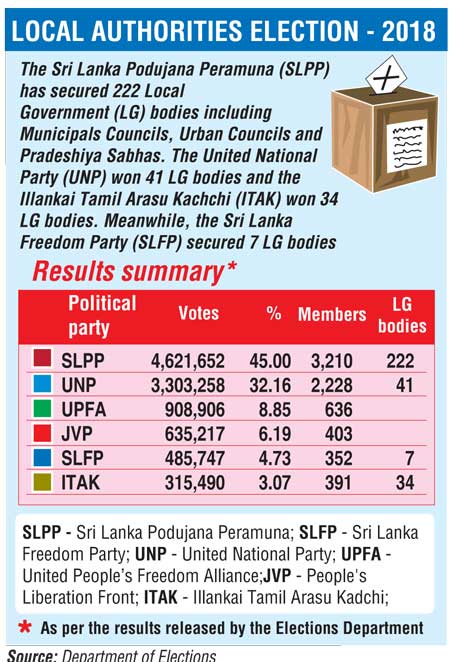 President Maithripala Sirisena met his party members before the meeting with the Prime Minister and there was a lobby to set up a "stronger government" pushing to write off the coalition agreement.

"The reason for the defeat is not us, it is the UNP which has lost ground, so we are now not ready to work with them," Senior SLFP member Thilanga Sumathipala told the Daily FT.

"The President is ready to make some changes and form a new government. However, he will first speak with the Prime Minister and give him time to respond. The UNP will now have to make a call."

Sumathipala also said that going forward President Sirisena was ready to start managing the economy and make more administrative decisions.

Some factions of the UNP, which convened to hold a post-mortem of the elections, also wanted to push forward with a single-party government.

"The whole situation arose because there is no unity between the President and the Prime Minister. The last few months the President has criticised the Prime Minister often, which should not be done. Going forward the UNP is ready to form its own government," a senior UNP minister told the Daily FT.

According to the Minister, the UNP is ready to form the Government in the event the SLFP coalition members defect from the Government.

"Let all 25 members go if they want to, we will form the Government," the Minster said.

As the UNP members struggled to make sense of the defeat, undercurrents within the party also pushed for a change in leadership, with a clear succession plan in place to take on the elections in early 2020. The middle order of the UNP held the view that with the defeat a change in leadership was needed moving forward.